Please note, Mew's audio is low until the News section, so use Mkallah's audio to set your volume, not Mew's.
On this episode of The AIE Podcast…
Mkallah: Join AIE for Blizzcon, virtually and in person
Tetsemi: Something is going down in Krasus' Landing!
Mkallah: Dragonhold has a hold on ESO
Tetsemi: And, we have Max and Sema who are here to talk to us about AIE in SWTOR
All that and more coming up right now…
Podcast Audio
Podcast: Play in new window | Download
Subscribe: Apple Podcasts | RSS
Raw Video
Open
Welcome to episode #331 of the podcast celebrating you, the Alea Iacta Est gaming community, the die has been podcast. This is Mewkow: To my left is Mkallah: – (catch phrase here). And to my right is Tetsemi: (catch phrase here). This week we are joined by special guests Max and Sema who is here to talk to us about AIE in SWTOR Welcome!
Ok, we'll be digging into SWTOR shortly, but first, let's cover this week's news…
AIE News
Community
Mandatory Fun Nights
Where the fun is mandatory but the attendance is not.
Sunday – STO 8:30 pm Eastern
Monday – GW2 9:30 pm Eastern
Tuesday – SWTOR 9 pm Eastern
Wednesday – FFXIV 10 pm Eastern
Friday – ESO 9 pm Eastern
Friday – FFXIV(Late Night) 11 pm Eastern
Saturday – LotRO 8:30 pm Eastern
Saturday – Noob Raid (WoW) 11 pm Eastern
Streaming and Guild Podcast News
SWTOR Escape Pod Cast 312: Making Mek-sha
http://www.newoverlords.com/swtor-escape-pod-cast-312-making-mek-sha/
New York Cantina wrap-up; Merc/Commando 6.0 Overview; and a live tour of Mek-Sha on the PTS
SWTOR Escape Pod Cast 313: Prepared, You Are Not
http://www.newoverlords.com/swtor-escape-pod-cast-313-prepared-you-are-not/
Final prep before 6.0, contest announcements, and a shout-out to Korbin.
Working Class Nerds
Episode 55: Post-Cantina Podcast, Ft. Dr. SWTOR and Kogass!!!
https://www.buzzsprout.com/143519/1838638
Marcus and Nick are joined by famous SWTOR streamer Kogass and Dr. SWTOR of the Ootinicast Podcast to discuss their adventure in NYC at the Star Wars Community Cantina. They break down all of the juicy details regarding the upcoming 6.0 expansion, and listen to soundbites directly from the cantina!
Blizzcon
At Blizzcon – @Lanctharus
Still firming up the final details, but there will be activities starting on Tuesday October 29th and going through Sunday November 3rd. Mostly meetups for Food, Badging, Panels, and more Food!
Keep an eye on the https://aie-guild.org blog for more details.
Virtual Blizzcon – @Syryne and @Turarts
We will have an online meetup for Contest Night. Syreyne is hosting one for Overwatch finals.
Mostly likely we will have one for opening ceremony and mostly likely one for final concert.
Others may pop up, but we can't say for sure without the published schedule of events/panels, so keep an eye on the https://aie-guild.org blog for posts.
We will have a #blizzcon voice channel for the events and for virtually hanging out during Blizzcon.
NOMADS
Destiny2
* Folks seem to be having fun, and have reached accomplished PvP ranks and gear levels in the 950+ range.
* These high levels mean they're eligible for the current raid content. No reported victories yet.
* The PvP themed Iron Banner has returned.
* Always defer to discord for clan chat, it's far too frequently missed in-game.
WoW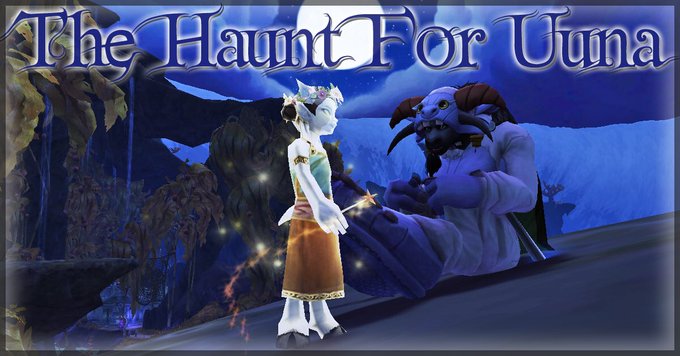 https://aie-guild.org/blog/2019/10/aie-wow-the-haunt-for-uuna-event/
Travel across Azeroth and beyond to reunite a little ghost with her favorite toy, wand and flower crown while fighting off super creepy evil…. things! ??
Meet Gustytail at Krasus' Landing in Legion Dalaran at 8pm Server on Friday, October 25th! #AIEGuild
Host:
@ZeusMom2010
Noob Raid is every Saturday night at 11pm EST. Any one with a level 120 is welcome to join us as we continue to slay bosses in Eternal Palace. We are 7/8 now and continue to have fun, laugh a lot, and take predictions on how many times Kini will demonstrate her epic floor tanking skills.
WoW Classic
Don't forget the upcoming AIE Craft Faire in WoW Classic.
Date: Sunday, November 17th, 2019
Time: 1pm – 4pm Eastern (Server Time)
Location: Undercity In The Trade Quarter
See the above link for more details and contact @Nevermore in game or in AIE Discord with any questions.
AIEMounts brought to you by the Eve Online branch of AIE. Yes, we can triple your ISK!
SWTOR
See Game Notes
FFXIV
* Raiders still be raiding Eden.
* MFNs and roulettes continue to be run.
* Did someone say FFXIV is getting a TV show? Yes, More Chocobos! https://www.ign.com/articles/2019/10/19/why-ffxiv-is-getting-a-live-action-final-fantasy-tv-series-adaptation-over-ff7
* The "More Patch" 5.1 (really named "Vows of Virtue Deeds of Cruelty" also "that Neir Automata patch") drops 29 October! https://na.finalfantasyxiv.com/shadowbringers/patch_5_1/
* More Alexander raid difficulty
* More Blue Mage levels!
* More PvP adjustments, and a rule Ruleset: Onsal Hakair (ruleset coming in patch 5.15)
* More Game in New Game+: restart the MSQ from various stages of the game in Heavensward, Stormblood, and Shadowbringer.
* More crafting and gathering changes: new UI, and Ishgard Restoration (this one in 5.11)
* More social fun: Fellowships, 1000 people from a data center with LFG features.
* More Gold Saucer: a new GATE named "The Slice is Right" and a new Doman Mahjon layout.
* More Bard: performance updates with new ensemble features, new brass instruments and a performance assistance feature.
* More Housing!! Adding wards 19 to 21 and new subdivisions. Initial plot purchases limited to FCs.
* More Mentoring, but only if you recertify and keep your certs up to date.
* and More importantly: a new launcher that doesn't look like it's from the early 90s!
ESO
The two recent prologue quests (we did them as part of MFN the week they launched) are part of the base game and lead up to the opening on Southern Elsweyr which will be the new location available with the Dragonhold DLC which comes out on October 21st for PC/Mac. The new area is about the size of Clockwork City and has the continuation of the Season of the Dragon' main quest, new delves, and of course new side quests. There will be new plant life and unique beasts that roam the area which had a near-apocalyptic past. Most of the dragons that were released stayed in the northern part of Elswyer, however some did venture to the southern area and there will be two new types of dragons to hunt (storm and frost types).
MFN is till every Friday night at 9pm est. We run dungeons, do zone clears of skyshards, kill world bosses, and take part in events.
The next event should be the Witches Festival which will probably have an exp buff as well as the berries and feather for the Indrik mounts.
STO
Another free T6 ship token project has started. And the Kobayashi Maru event has started and goes until November 7th.
EVE
Just getting settled into our new home. Move ops (evacuation) is setting down.
GW2
Shadow of the Mad King event is live through November 5. Shadow of the Mad Kings is the Halloween event. New skins and infusions this year, as well as the previous rewards. The candy corn gobbler and the home instance candy corn node are back for convenient (if semi-random) buffs!
LOTRO
Minas Morgal is still available for pre-sale. The new expansion is scheduled for an October 29th release date. If you have pre-purchased Minas Morgul the new race, Stout-Axe Dwarves is available to play right away. Harvestmath festival is currently running through November 5th.
And with that, let's get back to Max and Sema and find out what's going on in SWTOR.
GAME NEWS
It's the weekend before the dawn (or early afternoon–or possibly late evening) of the launch of Onslaught. People are tidying up their inventories, finishing up any quests they may have lurking in their logs, and spending all the currencies that are going away. The new expac, which comes this Tuesday the 22nd, will have a city in a hollowed out asteroid, a return to the ancient planet of Onderon, a new Operation, a new flashpoint, a new race, 5 more levels, new crafting, and new things to discover. New characters will emerge and new stories. If you are thinking of trying swtor, this week might be the week. Not too long ago, restrictions on free-to-play were greatly relaxed, too.
On Saturday of this week, AIE will be involved in an epic Operations crawl where loot will fall like rain. Seriously, there is a lot of loot to be had. The ops are synched to level 70, so you won't have to get to max level to join in. The new Operation, which is a longer term goal, will be set for level 75.
Tonight and tomorrow (Sunday and Monday) are the last two days of a galaxy-changing cartel market sale. You can get deals on character names, slots and appearance options, decorations for player housing, companions, pets, dyes, armors, and lastly, unlocks. If you have that toy (or emote, or light saber crystal,or or or)you love to use, but have not unlocked for all your characters, you still have time. The sale lasts until Monday night.
Optional topics depending on where the conversation goes:
Deeper dive on what's in the expansion
How we prepared (or failed to finish preparing) this week
What we expect the next month or two to be like for AIE in SWTOR
AIE SWTOR stuff like ops teams, MEGA, MFN, Conquest and how it all continues to work
RoS last trailer coming tomorrow night, tickets also go on sale
CLOSE
And that's our show for tonight. While the chatroom begins suggesting show titles, we want to thank Max and Sema for joining us.
If you have a question or comment about our show, you can email us at podcast@aie-guild.org. You can also follow us on Twitter. The show is at @aiepodcast. Mew is at @themewkow. Mkallah is at @cyberwaif,and Tetsemi is at @ivorytiger. We record live with video every other Sunday at 8pm Eastern/5pm Pacific. You can join the chatroom and play along with us on our website at https://aie-guild.org/podcast-live-stream/ and our Discord server for chat at https://aie-guild.info/discord . Our theme was composed by the amazing Andrew Allen, follow him at @keyswithsoul! or visit his website http://keyswithsoul.com !
And now it's time to play all of the great AIE member segment we received this week, including…
No submission this week, but we're always open for submissions.
Next time, we'll be talking to Dankinia and Guest in ESO. So until then, AIE…
– This is Mewkow
– This is Mkallah
– This is Tetsemi
And this has been… The AIE Podcast.