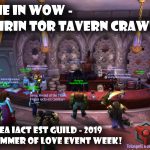 Sunday marked the end of another amazing week of summer events for AIE in our Summer of Love tradition. I wanted to take a moment to thank all the guild members and officers who helped organize and everyone who attended and participated throughout the week.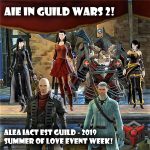 Syreyne kicked off the week with the Virtual Con themed blog post and we played with that theme throughout the week. Almost every major game division had at least an event or two, many building on our weekly Mandatory Fun Night format, with a handful of unique and special events thrown in.
Our annual Remembrance Day was held, as usual, on August 2nd. A very large crowd participated across the community and we shared the event live in seven different games. We really appreciate the participation and sharing from everyone for this very important and unique AIE event. The full recording of the event can be found here.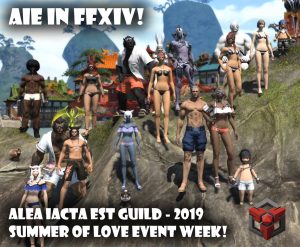 The week surrounding Remembrance Day was packed full of fun, including Mandatory Fun Nights™ in STO, GW2, SWTOR, FFXIV, LOTRO and ESO. Other highlights included the Ancient Threat fight in SWTOR, the Kirin Tor Tavern Crawl in WoW, Dungeon Runs in GW2, map fun in FFXIV, and of course our epic closing party at the WoW Darkmoon Faire with multiple concerts, rare boss kills, and games and prizes for all.
Eleven of the events were streamed live on the guild Twitch channel and published on the guild YouTube channel. Please bookmark and follow these channels to stay connected to this and future guild events:
Discord, Twitter, Twitch and Mixer were also lit up all week with a bunch of AIE members making more views of the events available. In particular, be sure to check these out and let us know if you have any to add:
Thanks again to all the support and fun from everyone throughout the week. Be sure to keep an eye out for what's next here and in Discord. Thanks for being awesome, AIE!