We wanted to take a quick minute to announce a new AIE Community Officer, Maellung! As most know, AIE officer roles are filled based on the jobs we need done and who is in a position to do those jobs. In addition to our strong roots as a WoW guild, we have growing presence in many MMO divisions and lots of exciting things are happening. As such we had a need across a couple of those divisions and Mael is well positioned to help.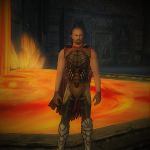 Maellung Arrowshield – Mael has been with AIE for a couple years now. He co-runs a Wednesday night operations team in SWTOR but the main example of his recent leadership in the community (and likely where his main responsibilities will lie) is in running a weekly Mandatory Fun Night in Lord of the Rings Online every Saturday night for months now. He's taken a handful of players through both the regular game content and the Legendary servers.
We'll use his time and talents in SWTOR, rely on him continuing to help lead our Fellowship in LotRO, and expect to have his help across a bunch of our divisions. You may have seen him in GW2, STO and ESO as well. I'm hoping we get more players in LotRO in particular over time (my Warden is leveling up) and it will certainly be featured in our Summer of Love week of events coming up in about a month.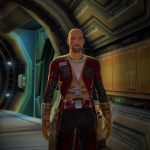 A few of us, myself included, had the chance to meet Mael and his wife at Star Wars celebration which was a blast. Mael's a mailman IRL so that sounds like communications and logistics help for the guild too!
Thanks for taking this on, Maellung!
It's a dangerous business, Maellung, going out your door. You step into the Road, and if you don't keep your feet, there is no knowing where you might be swept off to.