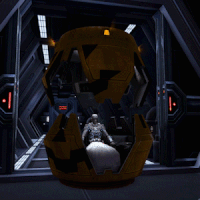 Our SWTOR division Monthly Epic Guild Activity series continues this Friday with a Halloween themed guild event. We'll kick off the evening with a costume contest and prizes in three categories. The categories are: "Scary/Spooky", "Funny/Crazy", and "Pop Culture Reference". Winners will get a custom guild title in our guild listing as a member note along with an additional in-game prize.
Be there Friday, 8pm central. Both Republic and Imperial costumed characters can meet up in the Slippery Slope cantina on Nar Shaddaa (summons will be provided).
Following the costume contest we'll head out and find something scary to hunt. This second half will need to be on all Republic characters since it's a Republic week and we'll need to group up. Be sure to also have https://plug.dj/aieguild locked and loaded with a Halloween playlist.
Don't miss it. It will be epic!
The "Pop Culture Reference" category is, of course, inspired by our resident master of the themed appearance tab, Thaan. Alas, Thaan will be traveling and not able to participate but has submitted these examples of pop culture awesomeness as inspiration. Enjoy!