On this episode of The AIE Podcast…
Tetsemi: Stay awhile and listen to Sy's Fireside chat
Mkallah: And, stick around for Midsummer fire festival
Mewkow: We have Mandatory fun nights for almost every night of the week
Tetsemi: And, updates on how we fare in Hobo Wars
Mkallah: And, Abovan is here to talk to us about AIE in Final Fantasy XIV
All that and more coming up right now…
Podcast Audio
Podcast: Play in new window | Download
Subscribe: Apple Podcasts | RSS
Raw Video
Open
Welcome to episode #299 of the the podcast celebrating you, the Alea Iacta Est gaming community, the die has been podcast. This is Mewkow: To my left is Tetsemi: – (Another settlement needs my attention!). And to my right is Mkallah: (Do you know how big a cake we are going to need for our next episode?). This week we are joined by special guests Abovan who is here to talk to us about AIE in FFXIV Welcome!
Ok, we'll be digging into AIE in FFXIV shortly, but first, let's cover this week's news…
AIE News
Community
There is a new post up on the AIE Guild site – https://aie-guild.org/blog/2018/06/aie-community-news/ – that is intended to provide some cross-community updates as well as some insight into some of the work the officer team does behind the scenes across all the games. We are planning on having a post like this at least monthly, if not more frequently, let us know what you think!
Guild Podcast News
Our very own Syreyne has started talking to AIE members in a new show called Sy's Fireside Chat. So far she has interviewed Diddi and Velazarius; Anwyl, Antibus, and Termaku; Acuzod and his family, Sethos; and OldLadyFranks and giggles with OLF's daughter. You can find all the episodes linked in her #episodes channel on https://discord.gg/thZ4EdF .Next week she will be interviewing Grimcow on Episode 5.
Swtor Escape Pod Cast 244: Mad Max And Sema – Fury Roadmap
This week, @AIESema, @MaxTheGrey and Astromech EPC-244 hang out in the casino while we walk through the summer roadmap in detail.
http://www.newoverlords.com/swtor-escape-pod-cast-244-mad-max-and-sema-fury-roadmap/
Swtor Escape Pod Cast 245: SWCC The Chicago Way
This week, @AIESema, @MaxTheGrey and Astromech EPC-245 talk about the PvP update posts and Star Wars Celebration with details on visiting Chicago, all while we check back in on our Sorc class story.
http://www.newoverlords.com/swtor-escape-pod-cast-245-swcc-the-chicago-way/
Upcoming Streams
Don't forget about the AIEGuild twitch channel http://twitch.tv/aieguild which is hosting a variety of content from AIE Streamers covering AIE in most of the games we're currently in, including a number of Mandatory Fun Night events. Max the Gray will be streaming FFXIV along with Abovan shortly after the podcast, showing off the guild house and other activities that the AIE Guild is involved in.
Keep an eye out on http://twitch.tv/dankiniaplays as she will be streaming Noob Raid in WoW along with Season 14 of Diablo III which starts on June 15th, 2018.
NOMADS
There has been an uptick in Destiny 2 activity with the announcements, from the website as well as E3, about new content coming and changes to the game. Jump on in and play with other AIE Guild members, check out the #destiny2 channel in AIE's Discord server.
Essentially, the start of the new season brought back Faction Rallies and that event is going on now but ends Tues. It only lasts one week and there are rewards specific factions: gear, weapons, etc.
There's also hype for the newly announced Forsaken Expansion 2 to the game.
A handful of guardians are popping on to finish weekly events to level the Clan and obtain powerful engrams for all. The Clan is still accepting new members while anyone how hasn't been on in 4-6 months may be removed to make room for new members. You can always receive an invite back to the Clan though.
WoW
The Midsummer Fire Festival starts on June 21st and goes through July 5th. Please keep an eye out on the guild calendar, https://wiki.aie-guild.org/index.php?title=Guild_Calendar , as well as https://aie-guild.org for upcoming events, including groups getting together to put out the Alliance Fires.
ESO
Mandatory Fun Night,on Friday's, continues to be well attended. The guild usually gets together and crashes an open world zone. Hitting world bosses, sky shards, dolmens, delves and public dungeons can be pretty fun so why don't you join us or watch for http://twitch.tv/thedurus to stream on their channels or otherwise hosted on the AIE Twitch channel.
Guild members are on nearly every night running dailies, and working on the new story content introduced with the recently released Summerset.
SWTOR
Mandatory Fun Night, this week will be on the Galactic Republic side, the conquest event is Relic of the Gree so they will go fight Xenoanalyst, and the Ilum Gree WB and do the Ilum rampage at the same time. Conquest target will be set for Medium on Pub side, and Small on Imp Side. Speaking of which, congratulations to the guild on taking on and meeting the Large Planet goal on the Imp side and the Medium Planet goal on the Pub side last week. A lot of effort was put into that guild activity and it was great to see the guild come together to conquer the goal.
Star Wars Celebration will be in Chicago, April 2019 and tickets are going fast. Last we checked they were 80% sold out and the full event pass was already sold out.
Also, Friday, June 22nd at 8pm central, SWTOR will have a monthly guild event. Guild member Marcus is driving it and plans to take the guild on a rampage, taking down as many world bosses in the game as we can. That's the first in what will likely be a new series of Monthly events in SWTOR.
FFXIV
See Game Notes
STO
The fleet had been making big steps forward on the various holding projects. Also for submitting Umami applications for the new Jem'Hadar, just use the faction federation and race alien.
It is bonus dilithium weekend. So come do queues, mine dilithium, and earn extra dilithium this weekend. The next weekend is going to be upgrade weekend, where tech points are normally doubled from your upgrade kits. This will help you get all your new Jem'Hadar captains and all your old captains their new max level great if MK XV, yes that is correct mk XIII is no longer the top gear level.
The new expansion, Victory is Life had been released. Odo returns with the Dominion to form an alliance with the Federation and KDF. As such, you can now create Jen'Hadar. If you purchase the starter pack you can unlock the Jem'Hadar Vanguard race. They have an added bonus in space combat on top of the default ground bonus of the regular Jem'Hadar. All Jem'Hadar start at level 60. They also are Gamma Recruit, which there are various objectives to complete with corresponding rewards. Many unlock account-wide rewards you can claim on other captains.
The Cardassians are another c-store race as well, as they join the fight. They start at level one and act as another option for races as a standard Captain.
And as with all things there are many new ships and even some old lockbox ships that are now in the c-store. So if you were hoping to get any of the old Jem'Hadar ships or the Cardassian Galor cruiser, you can now just visit the c-store. The Dominion haven't been sitting idle with their ship technology and offer 4 new tier 6 Vanguard ship variants of all the Dominion ships. The Cardassian also offer 3 new tier 6 Intel ships.
If you are wanting the new vanguard Jem'Hadar ships on other captains, once you level up the ship mastery to the 6th tier, it unlocks account wide
EVE
The "Hobo Wars" between several small alliances and their large super power backers continue and show some signs of gathering strength. Some Hobos have left the area, some have fallen, some have joined larger groups. We are "getting settled" in our current home, have been very active conquering and defending our territory. We have excellent support setup for current pilots and welcome anyone that is curious to join us at our public channel in our AIEU Discord. Check out the #eve_embassy channel in the AIE Discord for more information.
And with that, let's get back to Abovan and find out what's going on with AIE in FFXIV.
GAME NEWS
Patch 4.3: Under the Moonlight

The ramifications of the Doma part of the main Stormblood story, along with the post credits scene (no spoilers!) come to a tipping point.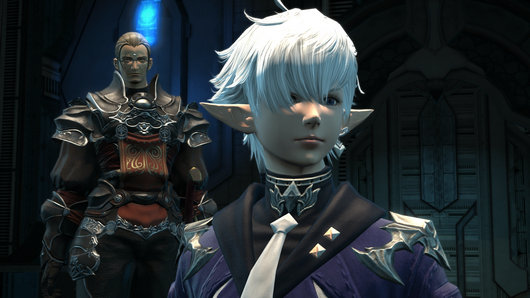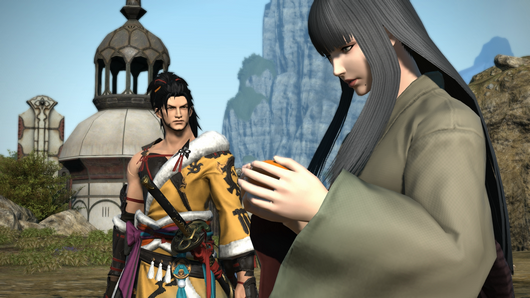 New primal fight with ???, because it is a spoiler, but a good story to witness.
More Side stories, including a new 4 Lords side quest.
Return to Ivalice, 24 man raid. 2nd part of the expansion.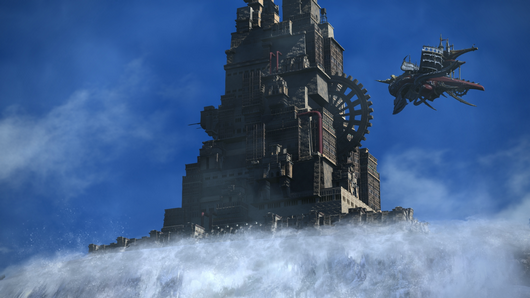 The Doman Enclave reconstruction. I'm not saying that Doma was destroyed in an earthquake or a flood or something, but it needs to be rebuilt.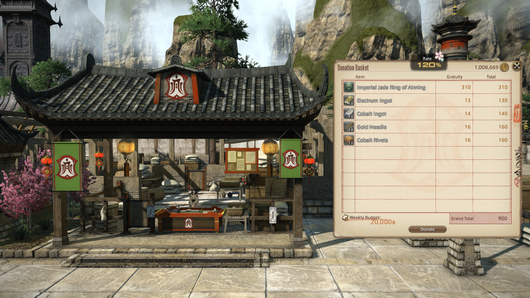 New best tribe, the Namazu. Crafting dailies, scaleable quests to help level your crafters from 60-70. There are now daily quests you can do to level your crafting jobs from 1-70.
New dungeons for Grand Company Squads
The Aurum Vale
Braflox Longstop Hard
Sohm Al
Squad members can be glamoured and equipment dyed.
Bard performance actions have been updated to include
Flutes
Oboes
Clarinets
Fifes
Panpipes
All notes can be keybinded.
Lots of job changes, read the case notes.
Cross server linkshells are a thing.
New Feast season, the ranked PVP.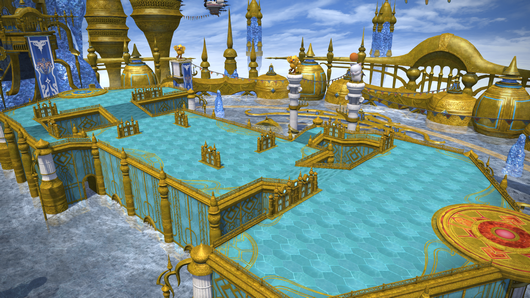 Cosmetic bonus – Male bunny ears.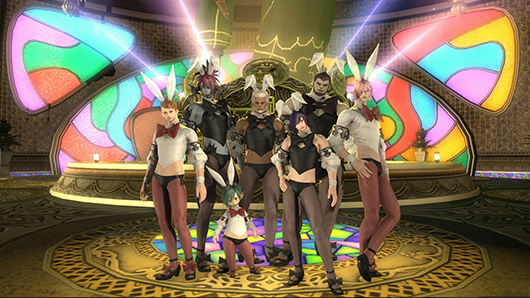 If someone is in a hurry and starts a boss fight early, you will be asked to join the fight and not be locked out. Does not let you a) leave the fight and then come back in or b) enter the fight if you are dead or died during the fight.
Lords of Vermillion matches has been updated to include NPC challenges, so a match will always be available.
Chocobo races can be registered for via duty finder, both solo and in groups.
Which leads us into…
The Make it Rain Campaign has started and will run thru July 24th.
Extra MGP will be available on all mini-games in the Gold Saucer!
Earn unique items during the event, including the mini games themselves as housing items to be placed in the house to be played anytime. Fully functioning mini-games, rewarding MGP.
A repeatable quest line that start off as a ghost story, but turns into a cute matchmaker questline.
On May 29th, we got patch 4.31
Adding The Weapon's Refrain (Ultimate). New challenge raid for high end players, revisiting the Ultimate Weapon from the end of A Realm Reborn. The videos are for this are OMG SO COOL!!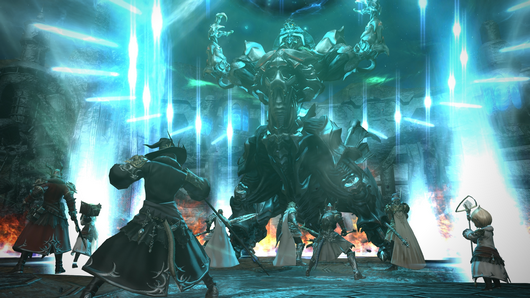 CLOSE
And that's our show for tonight. While the chatroom begins suggesting show titles, we want to thank Abovan for joining us.
@Abovan
If you have a question or comment about our show, you can email us at podcast@aie-guild.org. You can also follow us on Twitter. The show is at @aiepodcast. Mew is at @themewkow. Mkallah is at @cyberwaif,and Tetsemi is at @ivorytiger. We record live with video every other Sunday at 8pm Eastern/5pm Pacific. You can join the chatroom and play along with us on our website at https://aie-guild.org/podcast-live-stream/ and our Discord server for chat at https://bit.ly/AIEPodcastDiscord . Our theme was composed by the amazing Andrew Allen, follow him at @keyswithsoul! or visit his website http://keyswithsoul.com !
And now it's time to play all of the great AIE member segment we received this week, including…
The AIE Podcast turns 300! And we are rounding up some very special guests for the occasion. So until then, AIE…
– This is Mewkow
– This is Tetsemi
– This is Mkallah
And this has been… The AIE Podcast.