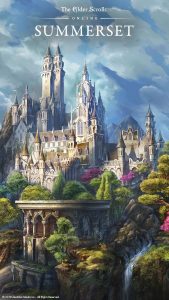 Elder Scrollers rejoice! The Elder Scrolls Online: Summerset is coming to PC/Mac on May 21 and Xbox One and PlayStation®4 June 5. The ancient homeland of the reclusive High Elves will open its borders to outsiders for the first time in recorded history.
Read more about this expansion's new story and available features in the official Elder Scrolls Online news article: Boundless Adventure Awaits in Summerset.
Highlights include:
Take on Menacing World Bosses
Explore New Public Dungeons
Shut Down Abyssal Geysers
Venture into New Delves
Complete the Museum Quest
Become a Grand Master Crafter
Join AIE on the PC North American megaserver.  You may ask for invites to the Alea Iacta Est Cartis guild in the AIE Discord's #lfo or #eso text channels.