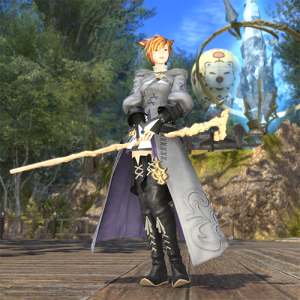 Have you been waiting to join AIE in FInal Fantasy XIV? Now is a great time to become a Warrior of Light in Eorzea. Square Enix is having a 30th anniversary sale on the Final Fantasy franchise, as well as on Steam.
Feel free to come chat with folks in our #ffxiv Discord text or chat channels. Information on joining the AIE Discord can be found in UMAMI. If you are a returning player, try to find someone on your friends' list to take advantage of the Callback Campaign. Are you a new player? Then the Recruit-a-Friend campaign cam be a big boon to starting your FFXIV career.
Also, the new expansion: Stormblood is coming in June. The last Fanfest in Frankfurt is this weekend. Additional features about the new expansion will be revealed!
Kupo!