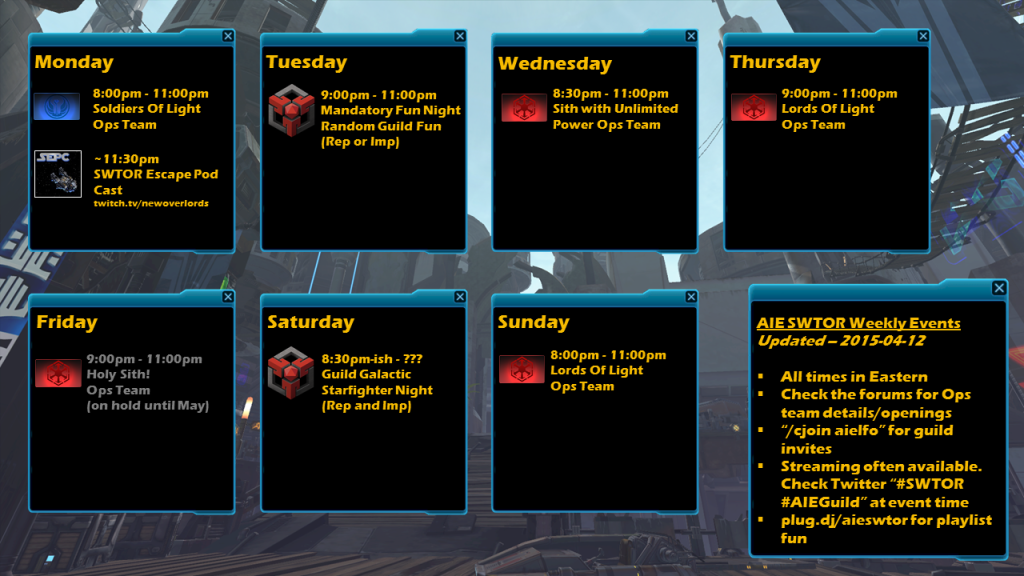 Here's the latest weekly calendar of guild events and ops teams in AIE SWTOR. Check the SWTOR and Operations forums for details. (All times in eastern):
Monday: 8pm-11pm Soldiers of Light Ops Team
Monday: ~11:30pm SWTOR Escape Pod Cast – guild/game topics @ twitch.tv/newoverlords
Tuesday: 9pm-11pm Mandatory Fun Night – Open guild fun night! Rotating factions
Wednesday: 8:30pm-11pm Sith with Unlimited Power Ops Team
Thursday: 9pm-11pm Lords of Light Ops Team
Friday: Holy Sith! Ops Team (on hold until May)
Saturday: around 8:30pm Open Guild GSF night, both factions
Sunday: 8pm-11pm Lords of Light Ops Team
Many of these events are streamed on twitch.tv (e.g. http://twitch.tv/newoverlords) for anyone that would like to check in and ride along. Check the twitter feed for #SWTOR #AIEGuild at event time for the streams starting. We are often in http://plug.dj/aieswtor for guild events and ops nights as well. Feel free to join for some music to play to!
As always, use "/cjoin aielfo" to ask for a guild invite at any level. (Application not needed for initial guild invite.) See you in game!