Greetings AIE! Jehdai here with an announcement for our guild member recognition program. AIE would like to congratulate our Guildie of the Month for February: Arveshet from AIE SWTOR. Arv is an OPS team leader and a generally helpful guild-mate. OPS are raids in Star Wars: The Old Republic. You can also find Arv hanging out in AIE Mumble. I have asked a few questions so we could all get to know Arveshet better.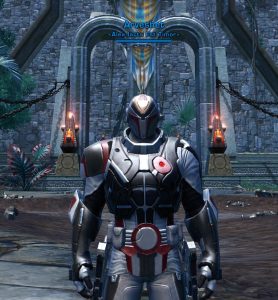 Jehdai: When did you join AIE?

Arveshet: I had been listening to Buzz Out Loud for a while and hearing Veronica talk about this guild she was in and how it was across several games. I also started listening to The Morning Stream and heard Scott mention this new MMO, Star Wars: The Old Republic, that was coming out and how he'd be playing it. I thought, "Here's a good chance to get into a game and play with these guys."  While I wasn't a big Star Wars fan before I started playing the game, I thought I would like to see how it plays and maybe I could actually get into an MMO as I had tried WoW and it never seemed to be a good fit. So, I started playing in Early February of 2012 and joined AIE a couple of weeks later.

Jehdai: Describe what it has been like running the Ops team for SWTOR?

Arveshet: Running an Ops team for over 2 years now has been a great learning experience. From the highs of getting a regular group of people through a new Operation to the lows of folks leaving the game, and hence the team and trying to find replacements.  What I am doing now, by trying to convert my 8-man team to a 16-man team, brings with it a whole new set of challenges. (Mostly learning how to herd cats.)

Jehdai: Where are you on Ops progression?

Arveshet: At the moment we are trying to get through the second boss in one of the new Operations that came out with Patch 3.0.  We'll get that darn Bulo down, it's just a matter of filling the team out and learning the dance (sometimes with two left feet).

Jehdai: What is your favorite Star Wars Movie?

Arveshet: Tough one, but, against the grain, I would have to say I enjoy Episode I: The Phantom Menace the most. I like seeing the back story of where the characters in the Original Trilogy started from.  Plus, (and this is the against the grain part) I find Jar Jar Binks to be a great source of comic relief. He makes the movie seem like it doesn't take itself as seriously or feel as dark as some of the later movies.

Jehdai: Do you play any other AIE games?

Arveshet: I have dabbled into several other games such as main divisions games like WoW, Lord of the Rings Online, Rift, Guild Wars 2, Star Trek Online and Wildstar. And I have dipped my toe into several of the Imperium Ludi games with the Nomads like Path of Exile, World of Tanks and Marvel Heroes.  But, in the long run, it's always back to SWTOR, been subbed there since about 6 weeks after launch.

Jehdai: Pie or ice cream?

Arveshet: Can't decide. So…pie a la mode.
AIE's Guildie of the Month program is our way to acknowledge outstanding members in our community. If you know someone that deserves to be recognized, please send an email to us at
gotm@aie-guild.org
with the name of the person you are nominating in the subject line. Nominations for March's GotM will be accepted until February 8th, 2015. This is a community wide program. Nominations will be accepted for members from any game division.