On this episode of The AIE Podcast…
Oh boy, do we have a special show for you all tonight
It's summer, you know, kind of hot
But, we are filled with love
And lots of highlights
Welcome to the AIE virtual guild hall
All that and more coming up right now…
Podcast Audio
Podcast: Play in new window | Download
Subscribe: Apple Podcasts | RSS
Raw Video
Open
Welcome to episode #407 of the podcast celebrating you, the Alea Iacta Est gaming community, the die has been podcast. This is Host Tetsemi: To my left is Mkallah: – (Hey all, there are strawberry Lemonade rice krispy treats in the guild hall ). This week we are doing something VERY special tonight- explain it here, Tet! Welcome!
Ok, we'll going into summer of love shortly, but first, let's cover our accomplishments so far this year!…
AIE News
Community
Just a reminder, here are your Mandatory Fun Nights, especially important for the Summer of Love
Where the fun is mandatory but the attendance is not.
Sunday –
Monday – GW2 9:30 pm Eastern
Monday – STO 10:00 pm Eastern
Tuesday – SWTOR 9:00 pm Eastern
Wednesday – HFO Mythic+ Mayhem (WoW) 8:00 pm Eastern
Thursday- Board Game Night (1st and 3rd Thursdays) 7:00 pm Eastern/6:00 pm Central
Friday – ESO 9:00 pm Eastern
Friday – FFXIV(Magical Misc Tour) 9:00 pm Eastern
Saturday – LotRO 8:30 pm Eastern
Saturday – FFXIV (Maps) 9:30 pm Eastern
Saturday – Noob Raid (WoW) 11:00 pm Eastern
Streaming and Guild Podcast News
We have a ton of AIE member podcasts! Want to know where to find them? Look no further than here-
SWTOR Escape Podcast (Max and Sema)
https://www.newoverlords.com/category/listen/sepc/
Behind the Games Podcast (Jeff aka Max and Sema)
https://www.newoverlords.com/category/listen/btg/
Working Class Nerds (Marcus and Nick) – NSFL
https://workingclassnerdscom.wordpress.com
Boards and Swords (Chris and Philip)
https://boardsandswords.com/blog?category=Boards%20%26%20Swords
Dr. Gameology ( Dr. Daniel Kaufmann )
https://drgameology.com/
STO – Fleet Action Report (Grebog and Nikodas)
https://www.youtube.com/@fleetactionreport
A Podcast Reborn: A FFXIV Community Podcast (Brandon aka Old Man Franks, Meagan, and Rho) – NSFL
https://www.bonusroll.gg/directory/a-podcast-reborn/
We have a pics of the year channel for Summer of Love. The current challenge is Pet Pics, but Gusty is asking for AIE members to share their Cosplay, Collections, computer desks, transmog/glamour and anything they are doing with Guild groups. (Tabards and banners encouraged.)
LOTRO
In March of this year we returned to Carn Dum in Update 35. Carn Dum, as the capital of Angmar, along with Urugarth (a nearby fortress) were two of the early 'world instances' in the game. Now Carn Dum has been redesigned using new tech and art. It remains a city of fell magic, evil men, and restless spirits. But now has a quest hub and instance cluster.
In May we received Update 36 "Gondor Renewed". Summoned to Gondor by King Elessar and Queen Arwen, we are to head South and aid in the reconstruction, but beware the Heirs of Castamir, and the influence of Umbar.
But now for the big news. Our very own Maellung has joined the ranks of the LOTROStream. It's official, he's official! You may ask, 'what is the LOTROStream, precious'? Well, you fool of a River-Hobbit, it's the official live stream of The Lord of the Rings Online!
Congrats Maellung!
GW2
The Guild Wars 2 division has been abiding. MFN runs weekly and the monthly Dungeons and More night is still going strong. Over the past year during Dungeons and more nights we have done a variety of stuff from world boss hunting to helping members with their personal story to fractals and yes even running some dungeons.
For Summer of Love, we will have a Remembrance Day gathering, Dungeons and More night, and the usual MFN on Monday night.
We are eagerly waiting for the first expansion in the new yearly format, Secrets of the Obscure. As we have no more dragons to fight, this expansion promises to go into the mysterious Wizard's Tower that was floating in south Kessex Hills. SotO is due to launch on Aug 22nd.
FFXIV
Since late 2022 and thus far in 2023, AIE has seen a very strong amount of activity in FFXIV. With Endwalker's patches coming to a conclusion in the next couple of months, and the upcoming expansion that was just announced, Dawntrail, we can only expect the AIE player base in FFXIV to grow. From players just starting out, to casual players just logging in to see the new stories and features, to the dedicated players looking for the highest challenges that the game has to offer, AIE in FFXIV has players of all types.
We have been having events of all types, covering content in all expansions, throughout the week. Map nights continue to be a big player draw for the max level characters, but we also do older map nights for players that have not reached that point yet. Legacy raids, such as mount farming, old Extremes Trials, and 24-player content have been popular as well. Regardless of your playstyle, skill level, and progression, there's group activities that you can do with AIE.
We would also like to extend a heartfelt welcome to any new or returning players that will be joining us when FFXIV will be made available to the XBOX Series S and X. (The current gen XBOX consoles). The open beta will start with patch 6.5, which will launch in early October. Again, cross play is a keynote of the game, allowing all players in AIE to play with each other, regardless of their chosen platform or control scheme. For those planning on returning with XBOX support, welcome back. For those that will be joining us on their XBOX consoles for the first time, welcome!
Don't forget about Discord for out-of-game communication as well! The ?FFXIV channel is always hopping with conversation and chatter on the game. Also, with the recent updates to the console, both the XBOX and PS5, you can now join voice chats in Discord right on the console. Perfect for the multi-platform game that is Final Fantasy XIV.
Thank you to all of the current and former players that have played FFXIV with AIE for the past year and since our start in FFXIV 10 years ago. We could not have built this great community without you.
Destiny 2
"Lightfall" came in Feb 2023! We are getting 4 seasons throughout the year with Story, Raids, Dungeons, and updates to keep you playing!
Clan night every Tuesday night at 9pm EDT
STO
STO has introduced a new ship bundle that brings 3 of the first T5 ships as new T6 versions.
The summer event in game just completed. And they have put in a short 2 week red alert event.
Fed fleet has two branches of the colony to finish to be 100% done with holdings outside of provisioning.
The KDF fleet is progressing nicely with the Starbase, Spire, and research lab all closing in on tier 2.
Fleet Action Report just celebrated its 3 yr anniversary. We had tons of fun hoping in shuttles and blowing each other up.
Monday 9pm to 11pm as part of summer of love and our fun night, we are encouraging anyone that thinks they may want to try Star Trek Online, too join us. We will be creating new characters and walking anyone interested through the tutorial and start of the game.
SWTOR
This year, two new AIE Officers came from the ranks of swtor players–Stask and Machete. 2023 saw the beginning of our semi-regular pvp nights on Wednesdays and Fridays. These are run in the spirit of AIE and strive to be fun for all. 2023 was also a big year for the game itself. We got a new major content drop (7.3) as well as major technical updates for the client, the graphics and the infrastructure. We also had two different periods of double XP/REP/Honor!
Still to come this week, we'll have a special Amazing Race event on Tuesday, meeting in the Juran Mountains for Remembrance on Wednesday, and have a new pilot Flight School for Galactic Starfighter where you could even bring a Level 1 character. Then our guild fun will continue throughout the year with our Tuesday, Wednesday and Friday fun nights. Hope to see you all there!
WoW Classic
The past year has been great in classic. WotLK is still the best expansion out there, at least according to us Classic folks! We have had a good year of 10 man raiding, with Naxx and Malygos, Ulduar, and now Trial of the Crusader. Waiting for word on when ICC will be out, but we all are hoping for fall. We have 2 events planned, old school raids for 29 July and 5 Aug, and we will do the Walk from the Shrine to Org on the 2nd. If anyone wants to come over to Classic, we are always happy to see people, and WE HAVE COOKIES. Oh and punch!
WoW
In WoW, Noob Raid made a FULL CLEAR of Aberrus on Saturday. Congrats to our raiders and to guest Raid Leader @Rintalasin . Fantastic job all! Later this week there will be nightly Guild runs of the Trial of Style – a transmog fashion contest – to show off fun new Dragon Isles and Time Rift gear. The Craft Fair didn't generate much turnout, but we'll be offering help with professions all week.
In WoW, we held a Dragonflight version of the Craft Fair on Saturday and Sunday (will update tomorrow). We'll be running nightly Trial of Style Guild runs during the Transmog Fashion Contest mini holiday and showing off fancy new Dragon Isles and Time Rift gear.
In Dragonflight there's lots to do with the new "Dawn of the Infinite" Mythic Dungeon and Time Rifts events. Dragonriding has been a playstyle game changer – possibly the biggest since flying was introduced in Burning Crusade – and Blizzard is in the process of adding it to the rest of WoW. A new Kalimdor Cup dragon racing event begins August 15. Players are also enjoying the ability to make any race a Warlock and obtain new appearances for their demons
ESO
Tales of Tributes tournaments
Vol 1 Winner – DPRoberts/Dankinia (2022)
Vol 2 Winner – DPRoberts (2023)
Vol 3 Winner – Dankinia (2023)
Summer of Love – Remembrance day at Dankinia's primary residence and a fishing tournament during MFN on August 4th.
NOMADS
Board Games
1st and 3rd Thursdays of each month
See Discord for details and requirements
Diablo 4
The latest installment in the Diablo franchise launched last month and the clan has about 150 members. Traditionally, AIE's Heroes of Sanctuary are seasonal creatures and the game sees the most activity during new seasonal play. The first season for Diablo 4 is the Season of the Malignant and is well underway.
The game has a small, but active community with a variety of activities to keep most occupied from dungeon crawls for progress and leveling, world bosses, and up to five classes to experience the content with.
During the Summer of Love, the Diablo 4 Heroes have several "themed days" when veteran players can be available on request to assist with these activities. Please check the Summer of Love schedule but know that you can reach out in Discord at any time for assistance or fun grouping in the game.
Summer of Love got under way with TTRPG's on Friday and Saturday. Pelell's group survived the Tomb of Horrors and emerged with tons of gold after shenanigans. Having a Warforged named Greenwall who could Comprehend Languages helped (see what we did there?). Lithou's Threads of Fate session had a flying daycare center in hot pursuit of a runaway ship with a diplomat's child on board… then things got weird. Also, props to DM Lithou who kept the game going despite a power outage. Mad skills! Next Saturday Catavarie will be running a Star Wars game. Get your blasters ready!
Watch List
Coreborn is officially released in Early Access and available from Steam
Palia goes into Closed Beta on 2 Aug and Open Beta on 10 Aug
Summer of Love – Calendar of Events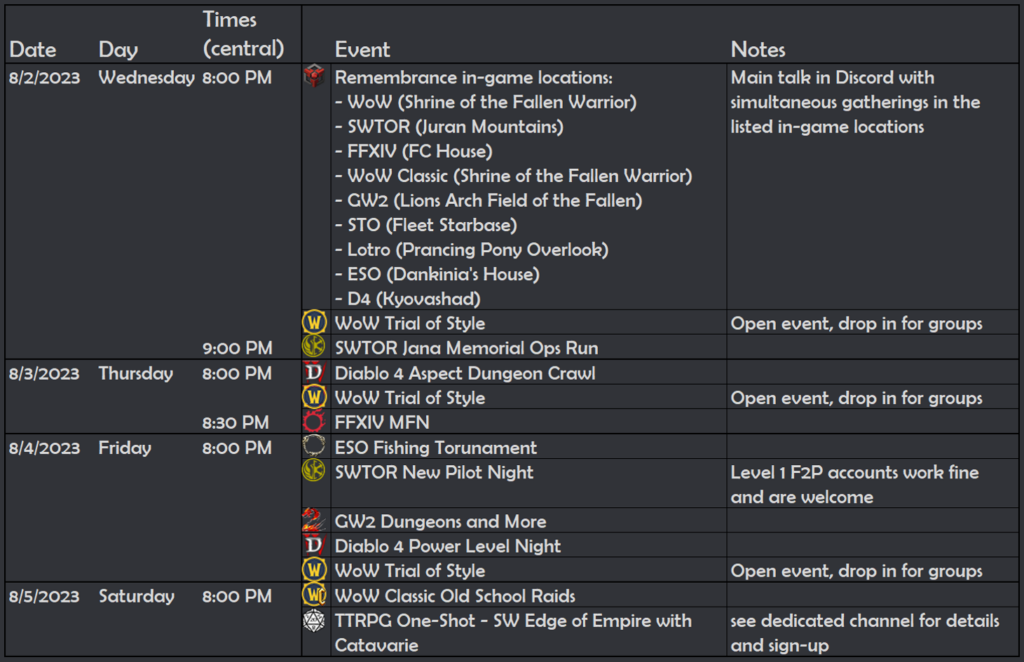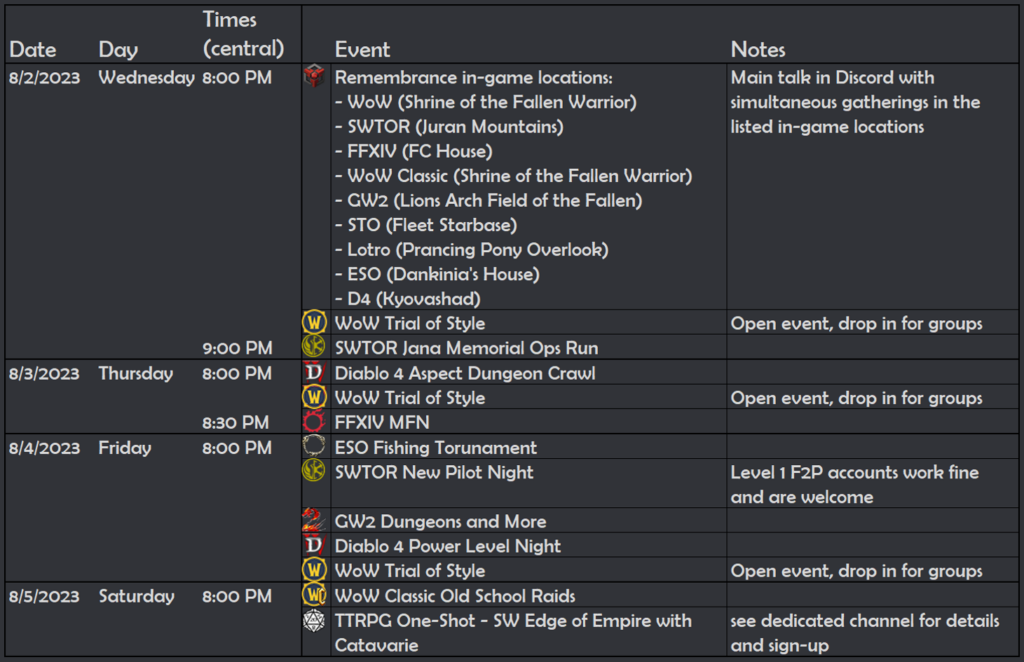 GAME NEWS
CLOSE
And that's our show for tonight. While the chatroom begins suggesting show titles, we want to thank Everyone for joining us.
If you have a question or comment about our show, you can email us at podcast@aie-guild.org You can find us on the AIE Discord and other non-Twitter social media.. We record live with video every other Sunday at 8pm Eastern/5pm Pacific. You can join the chatroom and play along with us on our website at https://aie-guild.org/podcast-live-stream/ and look for the link to our discord server at https://aie-guild.org. And for past episodes, you can see them on our Youtube channel, https://www.youtube.com/c/TheAIEPodcast ! Our theme was composed by the amazing Andrew Allen, follow him at @keyswithsoul! or visit his website https://andrewallenmusic.com/
Next time, we'll be talking to Guest in Game. So until then, AIE…