Summer of 2021 is upon us and with that comes AIE's biggest week of the year. This year's Summer of Love event week will begin with a guild Town Hall on Sunday, July 25th, continue with a week of events across all our games, and end with our most important and solemn event, Remembrance Day, Monday, August 2nd 2021.

For those not familiar, this marks over 10 years of special summer events we've held with the guild centered around Remembrance Day, a day when we take a moment to gather in voice and in game to remember those we have lost. Spread across the rest of the week are a series of special fun game events in almost every game division. These include player run events, special edition Mandatory Fun nights, and maybe even some contests and prizes.
Mark your calendars for the kickoff on Sunday, July 25th at 8pm eastern/7pm central for a Town Hall address and kickoff that will be simulcast in both Discord and in our beta virtual Town Hall on https://altvr.com/ event code: QLU382
Additional event details, Q&A, and other notes will be available in the next two weeks as we get closer to the event. Hope to see you all there!
High level event schedule so far… stay tuned for any updates!: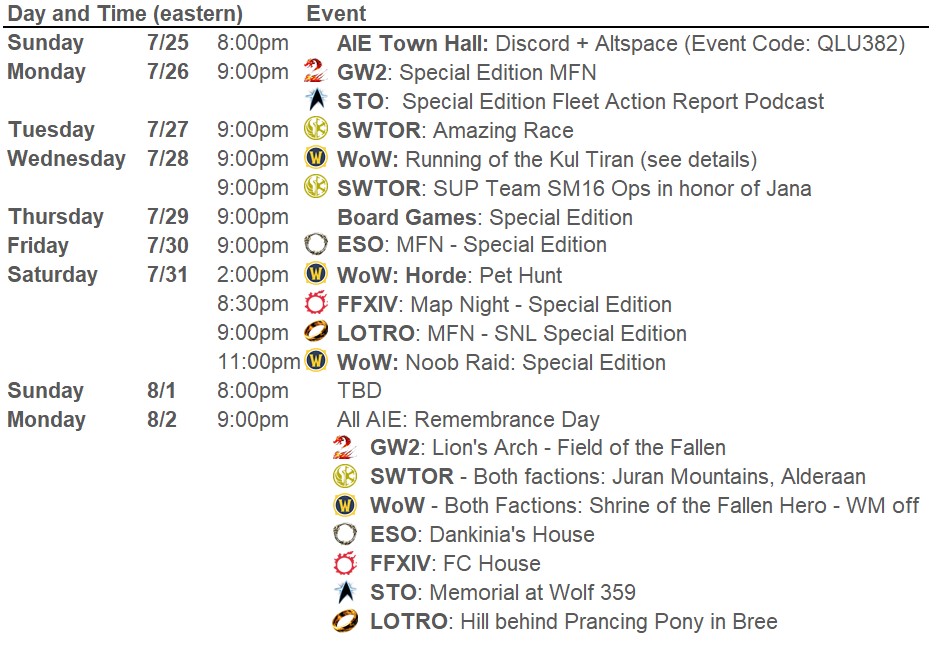 Event details:
The Town Hall will be live in Discord but will also be simulcast to an event screen in http://altvr.com Altspace is a 3D environment you can navigate on a PC/Laptop screen or in a VR headset. We have a custom "guild hall" environment where we'll be showing the presentation and socializing with our avatars immediately following. The event code you'll put in on the main altspace splash screen is: QLU382. It's live now if you'd like to test it out!
WoW on Wednesday: The Running of the Beef will feature Alliance Allied Races (Kul Tiran if you got 'em). Roll your alt on Earthen Ring and join Gustytail at the Embassy in Stormwind. Bonus points if the name starts with "Sy" as our usual leader, Syreyne is detoured by RL this year.