For those not familiar, the AIE Council is a small group of officers tasked with working alongside the Officer Community to set baseline operating guidelines for the guild, maintain the AIE guild culture, help develop guild leadership, and provide overall planning guidance in the rare instances where needed at a guild-wide level.
The current council is made up of some active members and some founding emeritus members including: Scott, Veronica, Xanar, Randy, Stigg, Lanctharus, Ashayo, Hoots, Sema and Max. In order to balance a bit more toward the "active" members, we've decided to expand and bring on a new council member to help out. Please join us in welcoming Tetsemi to the council!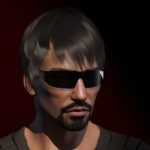 Tetsemi has been with the guild and helped lead since nearly its founding. His focus as a WoW Co-Director has continued to keep our WoW division strong and helped guide our expansion into WoW Alliance and WoW Classic. Tetsemi is also a long time co-host of our very own AIE Podcast (which everyone should be listening to fortnightly on Sunday evenings). When not podcasting or in WoW you can also find Tetsemi in and out of most of our other game divisions, on Twitter as @ivorytiger, or hanging out with his family (the lovely @cyberwaif and The Hordling) in Arizona.
Please join me in welcoming Tetsemi to this additional role in the guild!