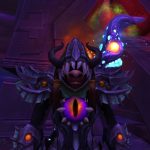 The Trial of Style returns later this month, and what better time to show off that spiffy new cloak and corrupted gear that stares, wriggles and tries to kill you? Or perhaps proving beyond any doubt that your Vulpera is The Cutest Ever? Join Officer Gustytail at this in-game event and push your transmog skills to the limit. Guild runs will be held on Friday, Saturday, and Sunday and specific times will be posted on Discord closer to the event. We'll do a run Alliance side too if folks are interested.
While the Trial of Style is active, all appearance changes at the barbershop and transmog vendors are free! Players can queue solo or in a group (which is more fun) for a fashion show scenario where you are given a theme and then vote on who has the best look. You earn tokens to buy gear appearances and a few other things and can earn a title, "The Fabulous." Hope to see you there!
Gusty, what big tentacles you have!