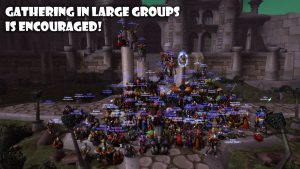 With the impact of coronavirus we are all dealing with challenging times that are unprecedented in recent history. Regardless of the downstream effects, many of us are right now facing the closure of schools and work from home, and can't enjoy our typical opportunities for social engagement. The guidance around "social distance" has become limiting for many in our community.
Alea Iacta Est is in a unique position to continue to connect us and close the distance. "Social distance" doesn't apply in our playground! With that in mind we wanted to remind everyone that we are here for each other and all our usual guild activities and channels for social connection are not only totally still in business but are also health-guidance approved!
Also, with kids out of school and extra long spring breaks engaged remember that AIE is family friendly and we'd be happy to host the whole fam. In fact, bring your family, friends, neighbors, and strangers down the street. All are welcome in AIE Discord, games, and fun events. Speaking of which, here's a rundown of our weekly in game Mandatory Fun Nights (where the fun is mandatory but the attendance is not!):
Sunday – STO – 7:30 pm central/8:30 pm eastern (Check in Discord to be sure it's running. Also, Grebog, Dent and team want to remind you that this game is free-to-play.)
Monday – GW2 – 8:30 pm central/9:30 pm eastern (Dejara is typically hanging out and can give you a tour of the guild hall or take you on an epic world boss hunt.)
Tuesday – SWTOR – 8:00 pm central/9:00 pm eastern (Check Discord for the faction of the week. SWTOR in-game Rakghoul plague is a risk, but Sema and our healers have your back.)
Wednesday – FFXIV – 8:00 pm central/9:00 pm eastern (Abovan and team are hosting fun times at the easy and the extreme levels.)
Friday – ESO – 8:00 pm central/9:00 pm eastern (Dankinia will lead you on an epic journey… possibly off a cliff, but that's how we like it.)
Saturday – LotRO – 7:30 pm central/8:30 pm eastern (One does not simply walk into Mordor… oh wait, sure we do. Dux, Maellung and the team will help you do just that. Great F2P options here too.)
Saturday – FFXIV Map Night – 8:30 pm central/9:30 pm eastern (Need some Gil… like a lot of Gil? Kelseer and team have you covered on these map run nights.)
Saturday – WoW Noob Raid – 10:00 pm central/11:00 pm eastern (Dankinia and Gijora fight the good fight with as many as we can pack in. No experience required for these raids.)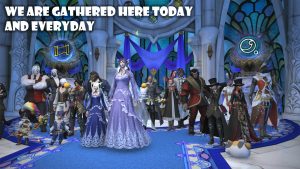 On top of all this, we have various special events like the WoW Trial of Style next weekend and periodic bigger monthly events across games. The Division 2 is hot right now and there's a pretty big group both in game and hanging out in voice regularly. Our WoW Alliance side is having fun regularly so check in with Syreyne if you want to raid there with the team. WoW Classic is fun retro times as well with new updates coming soon. Join any of these at any time and feel free to just say hi any time in guild chat, Discord channels or Discord voice (jump in and others will follow).
In summary, wash your hands, don't touch your face, and *do* maintain less than 12ms ping between you and your online friends!
Thank you to all the AIE officers who met this weekend to help continue to keep our guild and community strong and came up with the idea for this reminder post.