Did you recently drive your '60 Chevy to the drive-in to see a screening of Casablanca? Have you been reading Citizen Kane while Wagner's Ride of the Valkyries or Hendrix Purple Haze plays softly in the background? You would never drink "New Coke" would you? Then lean in because this post is for all of us that live that Classic life.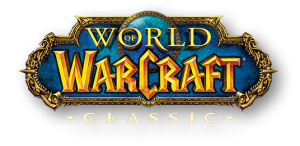 WoW Classic is almost here! This weekend marks the release of server names, and name reservation is starting on Monday. As the August 26th/27th release date approaches, AIE is putting final plans in place for our WoW Classic game division. Please stay connected to our #wow-classic channel in Discord for details now and more as launch approaches. Here are a few things you should know:
Server: Pagle! (*unless something goes terribly wrong) – AIE has been collaborating with our friends in CTR and a few other like-minded guilds to coordinate our home in Classic. We are hoping to find a server that's busy, contains friends on both factions, matches our play-style (PvE for the most part) and hopefully avoids some possible friction that could come from jumping in with some of the big streamer audiences. (http://avoidstreamers.com/ is an interesting resource.) We've landed on Pagle at this point and will stick with that unless something crazy happens that would cause us all to want to change. Here's the full list of server names and types.
Faction: Horde – After overwhelming desire for Horde for AIE in our internal polling over the last month, we'll start there with a single AIE guild on Pagle. That may grow after launch but that will be the foundation. However, if you can't not play Alliance, to perhaps recreate your original launch experience, we will be able to look to a few friendly guilds like CTR. This is the reason for our server coordination. We'll publish more details on our "federation" of guilds as we get closer to launch so hopefully everyone has a home for their characters.
Names: Reserve on Monday @ 6:00 PM Eastern – Players with an active subscription or game time on their World of Warcraft account will be able to create up to three characters per WoW account and have the name(s) reserved. Check here for details. Our usual family-friendly AIE naming conventions will apply, of course.
Test: Still up but almost done – If you are interested in a Classic preview, Blizzard extended the test window until Monday morning. Details here.
More to come in the next two weeks on how things will work for us on launch day with what might be a flood of invites and activity as we race to stand up the guild and get people in. We'll update everyone on character limits, invite levels, etc. if it looks like we'll need help to smooth out launch. So stay connected here and in our #wow-classic channel in Discord and stay tuned to the AIE Podcast and we'll keep everyone informed on additional details for launch. Fun!