On this episode of The AIE Podcast…
Tetsemi: Play Destiny and Diablo with the crew!
Mkallah: Lots of Lore Q&A
Mewkow DST is looking for DPS
Tetsemi: We have Captain Cybyl's STO update
Mkallah: And Abovan is here to talk to us about AIE in Final Fantasy 14!
All that and more coming up right now…
Podcast Audio
Podcast: Play in new window | Download
Subscribe: Apple Podcasts | RSS
Raw Video
Open
Welcome to episode #286 of the the podcast celebrating the Alea Iacta Est gaming community, the die has been podcast. This is Mewkow: To my left is Tetsemi: – (Minecraft sheep are trouble). And to my right is Mkallah: (Hey, AIE, there are cinnamon rolls and ginger molasses cookies in the guild kitchen!. This week we are joined by special guests Abovan who is here to talk to us about AIE in FFXIV Welcome!
Abovan – What has Abovan been up to? **Ahem** GIGABIT INTERNET!!! Almost. 940Mbps
Mew – Destiny 2; 250 gear level. FF14 stuff. Divinity OS2. Time for halloween deco.
Tetsemi – Shaman through the 925 mission on Argus, WoW Burnout is real, Minecraft with the Hordling, and got to CXP 100 in SWTOR on my Lightning Sorc
Mkallah – 30 headbands, six key necklaces, three gothic cameos, three pairs of earrings, all while watching Rebels.
Ok, we'll be digging into FFXIV shortly, but first, let's cover this week's news…
AIE News
Imperium Ludi
Are you playing Destiny 2 and want to join the AIE folks that are playing as well? Durus has a thread going over on the forums about the Destiny 2 Clan and how to join. Feel free to drop by and get your characters in the clan – http://forum.myextralife.com/topic/57467-destiny-2-clan/
And don't forget, the PC version of Destiny 2 will be opening up on Tuesday October 24th.
NOMADS
For anyone that hasn't seen, with Diablo Season 11 closing on October 20th, there are some people getting together in the #Nomads channel in AIE Discord to complete whatever remains. Check it out if you need to finish anything.
WoW
In case you missed it and the shock of seeing Lore's hair pulled back instead of all it's fluffy glory, or were perhaps distracted by Ion in general, Blizzard held a WoW Q&A and covered a number of 7.3 topics. With Blizzcon a mere 3 weeks away, it didn't cover any new territory, although a Q&A question did get them to make the decision to make the Flight Master's Whistle account wide on Argus as well. For a good write-up and a link to the video itself, head on over to WoWHead – https://www.wowhead.com/news=273355/liveblog-of-the-october-5th-q-a-with-ion-hazzikostas
SWTOR
Max and Sema have a new show format that is part news coverage and part commentary as they do a live play through of the starting levels. Packed full of tips and tricks for new and veteran players, including comments from the live chat room, these episodes are well worth a listen. They are currently doing the Imperial Side, Sith Sorcerer and fully committed to doing Dark Side choices even when the Light Side choices would be snarkier.
SWTOR Escape Pod Cast 212: Live from Korriban
http://www.newoverlords.com/swtor-escape-pod-cast-212-live-from-korriban/
This week @AIESema, @MaxTheGrey and Astromech EPC-212 start new characters on Korriban and begin a season of play-through, focusing on lore, tips, etc. while also talking about other game and community news for the week from SWTOR.
SWTOR Escape Pod Cast 213: Live From Korriban Plus Roadmap
http://www.newoverlords.com/swtor-escape-pod-cast-213-live-from-korriban-plus-roadmap/
This week @AIESema, @MaxTheGrey and Astromech EPC-213 continue our characters on Korriban and this season of play-through, focusing on lore, tips, etc. while also talking about the roadmap and related announcements from SWTOR
MarcusB's team, Desthstar Troopers is looking for a dps. They run Sunday nights 8:00 – 10:30pm EDT. Please message him on AIE Discord or in game in SWTOR if interested.
Also, game update 5.5 dropped on Tuesday: http://www.swtor.com/patchnotes/
Highlights include: preparation for uniting servers next month, achievements that help boost end game progression (CXP bonuses), class balance
FFXIV
See Game Notes
STO
Captain Cybyl's Star Trek Online News Summary for week ending 10/15/2017:
1. The new Dranuur Colony fleet starbase's first upgrade project has been unlocked: 'Colony Beatification: Planters'. This is a feng shui project to add plant life to beautify the staircases and hallways of the fleet starbase. See the STO website for details.
2. The 'Melting Pot' mission, released October 3rd, will be unlocking week 2 and 3 replay rewards. This will complete the Incontrovertible Defenses set and enhanced universal tech upgrade tokens or Specialisation Points. STO website has the details
3. A Dilithium Weekend Event, ending Monday, October 16th, is underway now! Mining dilithium ore yields an additional 100% bonus dilithium! Also, playing any game content that provides dilithium as a reward yields an additional 50% bonus!
4. Every October 31st and any Friday the 13th, 'Hearts and Minds', a fun, one-act horror story mission, is released for a limited time. Although it has ended, watch for it on October 31st and subsequent Friday's the 13th. Haunt the STO website for the chilling details.
5. Finally, don't forget: All the Fleet's Star Bases are always seeking contributions of materiel and personnel. And once again, please check out news, backstories, patch notes, forums and other goodies at the Star Trek Online website .
Until next time, Captain Cybyl says, 'Live Long and Prosper'!
GW2
The new expansion is awesome, come play. We are also still doing monday fun nights at 9:30 pm EDT, where we do stuff like guild missions, and sometimes (actually once), we did some fractals. Come play. Path of Fire can be bought directly through arena net, or in game. comes with a level 80 boost so you can jump right into the new content.
And with that, let's get back to Abovan and find out what's going on in FFXIV.
GAME NEWS
Patch 4.1 dropped this week. New MSQ (Main Scenario Quest) content dealing with the aftermath of what happened in Ala Mhigo, and the interesting fate of Zenos.
There was also a new Hildebrand quest line.
Oh, and there might have been a mad scramble for the new housing area. Large plots in Shirogane were sold before most people were out of the login queue. Medium plots were gone in about 8 minutes after the servers opened. There was much gnashing of teeth and the usual pitchforks being readied, but the developers promise to open new wards soon, and to find a better way to dole out new housing that isn't a battle royale.
Yoshi-P did announce that the housing shortage has been recognized, apologized for the shortage, and announced that there will be new wards (copies of housing zones with plots) available in all housing districts in 4.2, the next major content patch.
The guild managed to snag a medium plot, which actually isn't as bad as we thought it would be. It's in a very primo spot; on the beach itself; which is swimmable now, and adjacent to market boards and retainer bells. We have 3 floors of fun to come see, including a very popular water-closet apparently.
Shirogane 10th Ward, Plot 31
Other new things:
Your faction squad members can now go into dungeons with you! Limited dungeons available at this time.
New 24 man raids. This is in between WoW LFR and normal mode raiding in difficulty. This raid theme is based in Ivalace, from FF Tactics (the PS1 one)
New beast tribe dailies.
Royal Menagerie Extreme (end boss of Stormblood, but in a harder mode for loots)
Ventures, daily beast tribe faction tokens are all moved to the currency tab, so you get those inventory slots back.
New levels of the Hidden Canals added, Hidden Canals of Uznair, accessible from treasure maps.
Glamour/transmog is now level 15.
They also lifted the restriction on purchasing class boost books, so if you feel left behind and have the coin, have at it.
Big shoutout to Sashi for all the hard work on the guild house and the decorating of the guild house.
House pictures!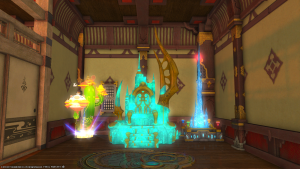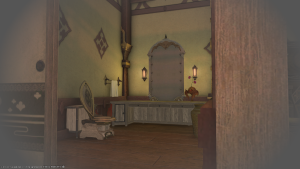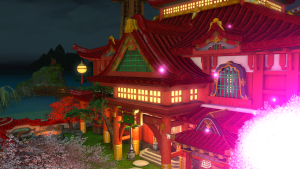 CLOSE
And that's our show for tonight. While the chatroom begins suggesting show titles, we want to thank Abovan for joining us.
@Abovan
If you have a question or comment about our show, you can email us at podcast@aie-guild.org. You can also follow us on Twitter. The show is at @aiepodcast. Mew is at @themewkow. Mkallah is at @cyberwaif,and Tetsemi is at @ivorytiger. We record live with video every other Sunday at 8pm Eastern/5pm Pacific. You can join the chatroom and play along with us on our website at https://aie-guild.org/podcast-live-stream/ and our Discord server for chat at https://bit.ly/AIEPodcastDiscord . Our theme was composed by the amazing Andrew Allen, follow him at @keyswithsoul! or visit his website http://keyswithsoul.com !
And now it's time to play all of the great AIE member segment we received this week, including…Hey, guys, we don't have any segments this time around. If you are interested in trying your hand at producing a segment, we would love to air it for you!
But, speaking of content producers, it is the wonderful Hunts the Wind's birthday!
Next time, we'll be having a pre-Blizzcon show! So until then, AIE…
– This is Mewkow
– This is Tetsemi
– This is Mkallah
And this has been… The AIE Podcast.