<![CDATA[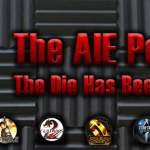 On this episode of The AIE Podcast…
Mkallah: Guildie Grams! Get your Guildie Grams here!
Tetsemi: the FFXIV raid team is extreme!
Mewkow: The Imperial City Celebration is FREEEE
Mkallah: October is for Onslaught!
Tetsemi: and, we have Dent to talk about AIE in Star Trek online!
All that and more coming up right now…
Podcast Audio
Raw Video
Open
Welcome to episode #328 of the the podcast celebrating you, the Alea Iacta Est gaming community, the die has been podcast. This is Mewkow: To my left is Mkallah: – (Hey, guys, there are lemon bars and dark chocolate brownies in the guild kitchen). And to my right is Tetsemi: (catch phrase here). This week we are joined by special guests Dent who is here to talk to us about AIE in Star Trek Online Welcome!
No Man's Sky
Lead Soldiers of Light in SWTOR every Monday night
Run with LoL on Thursday nights
Ok, we'll be digging into STO shortly, but first, let's cover this week's news…
AIE News
Community
Mandatory Fun Nights
Where the fun is mandatory but the attendance is not.
Sunday – STO 8:30 pm Eastern
Monday – GW2 9:30 pm Eastern
Tuesday – SWTOR 9 pm Eastern
Wednesday – FFXIV 10 pm Eastern
Friday – ESO 9 pm Eastern
Friday – FFXIV(Late Night) 11 pm Eastern
Saturday – LotRO 8:30 pm Eastern
Saturday – Noob Raid (WoW) 11 pm Eastern
Streaming and guild podcast news
Streaming and guild podcast news
SWTOR Escape Pod Cast 307: It's Just A Phase 2
PTS Phase 2, Onderon, Dxun and updated gearing news.
SWTOR Escape Pod Cast 308: Grinding Our Gears
PTS Phase 2 updates; Troopers ready for testing; Gear system breakdown.
Working Class Nerds
Episode 53: Rise of Skywalker Trailer 2 Breakdown!
https://www.buzzsprout.com/143519/1659580
Marcus and Nick sit down with fellow AIE Guildees Beaux and Corvenas to discuss the most recent changes to SWTOR's PTS and of course the new trailer for Star Wars: The Rise of Skywalker that dropped at D23!
NOMADS
September 21st is going to be the Nomads style raid on LotRO hosted by @MarcusB and @Maellung Arrowshield. Everyone in AIE that's up for it is encouraged to download the game sooner rather than later and get ready to roll up a new Level 1 character to play with the group. LotRO is Free To Play so suit up!
WoW
Noob Raid is 6/8 in the Eternal Palace now.
results from the Trial of Style
Classic
Over 750 characters currently added. Around 900 we will look for some unplayed alts to take out to keep us to 1 guild as long as possible.
This just in
https://docs.google.com/forms/d/e/1FAIpQLSd8wgoh91rPPaNuth1Mb9lkLX5n6fnlIBofMDs0WO2Km6R7EQ/viewform
Send someone a special message in WoW Classic with AIE Guildie Grams!
A "Guildie Gram" is based on the candy gram fundraisers that schools organize for holidays like Valentine's Day where someone sends a special note with candy or flowers to friends & teachers.
We love the spirit of community that everyone has shown in WoW Classic since launch. We want to continue this momentum going forward! There are a lot of reasons you could send a Guildie Gram:
* Someone went out of their way to help you with a quest you couldn't have finished alone
* Thank someone for helping you with profession mats or creating an item you needed
* You heard someone was having a rough day and just wanted to make them smile
The Guildie Gram will include:
– Your personal message
– Savory Deviate Delight x 1 (A treat that turns you into a pirate or a ninja when you eat it!)
* Guildie Grams are able to be ordered by Horde members of AIE in WoW Classic on Pagle-US.
* They will be mailed 1-3 days after the order form is filled out and in game payment is received.
There are many reasons to spread kindness and positive messages with each other.
Think outside the box and send a Guildie Gram to some of your fellow AIE guildies today! <3
AIE WoW Classic Guild Photo
Sunday, September 15th, 2019
3pm Eastern (Server Time)
Tabards are encouraged but not required! All guildies are welcome

Location: TBD

We understand Classic is expensive to train talents and professions, so not everyone will have a tabard yet and that's okay!

That being said:

If anyone *wants* to donate a tabard to be raffled off to AIE guildies that don't have one yet, that would be awesome!

You can any tabard donations to Nevermore.

SWTOR
We have a release date for Onslaught and it is October 22. PTS is up and rocking. The community has really embraced it and is making a great contribution to testing and feedback. In Onslaught, players will be able to roll a Nautolan if they are subscribed for any amount of time between now and the release of Onslaught. If you are wondering what a Nautolan is, check out Jedi Master Kit Fisto from Clone Wars.

In the live game, September is the month of many pirates! The Pirate Incursion event will be running twice this month on Dantooine.

Guild MFNs are on Tuesdays at 9PM eastern and we alternate between Imperial and Republic sides, so everyone can come and play. September's MEGA on the 27th is going to resurrect an OG mission to acquire the fabled Magenta Lightsaber Crystal. This is a shortish mission with some travel in between and we will be hanging out in discord and doing some Star Wars trivia as well. And who knows what else!

Also, New York Cantina is coming up fast on Oct 4th. A number of AIE people will be there, so if you fancy a night of drinks, AIEers, and possibly a little bit of game talk, you're invited! For more info and how to connect up, jump into discord and ask.

FFXIV
The FFXIV raid team took down Titania Extreme, the first piece of "raid-level" end game content in the expansion Shadowbringers. This is an 8 player raid, which can be done after the MSQ for Shadowbringers has been completed.

Currently, AIE is running gear up nights Tuesdays at 9:30pm Eastern and progression nights at 9:30pm eastern.

No experience is necessary! If you wish to join us with more challenging content, drop us a line in the AIE Discord in the #ffxiv channel.

I'd like to add that we are interested in running level 80 map nights. To run maps nights, the first step is to… get maps. To get them organically, you need to be a level 80 gatherer, that's miner, botanist, or fisher. They are an extra item on your gathers, and you can only get one map a day. Furthermore, you can have one map activated, one in your main bags, one map in your chocobo saddle bags, and one in each retainer.

Running maps can get you super rewards and fabulous prizes, especially when you spawn the "bonus zone".

So, we'd love to help get maps up for map nights. It's a super fun activity, pretty casual time, and a great time to be had by all.

ESO
The Imperial City Celebration event is happening now and the DLC for the Imperial City is now free in the Crown store for anyone who doesn't own it or have ESO Plus. This is a PvP focused area with some PvE content and two PvE dungeons – White Gold Tower (ugh) and Imperial City Prison. During the event drops of Tel Var Stones, Key Fragments, and materials will be doubled and the chance of getting a Stonefire Scamp pet or the Soul-Shriven skin will be double as well. Also, as usual, double drops from all bosses within the Imperial City and the dungeons.
You can earn 2 event tickets per day (per account), by defeating the final boss in one of the dungeons, or slaying a patrolling monster or mini-boss on the streets of Imperial City or within the sewers.

And MFN is still going strong on Friday Nights at 9pm est.

EVE
EVE Officers are playing Wow Classic, @Huck is holding down the ship.

LOTRO
SNL still going strong. September 21 raid on Lotro. All you need is the client downloaded. The game is free to play. All are welcome. If you have questions contact either Marcus or Maellung, or post your question in #lotro channel on discord.

GW2
MFN Monday nights and all who want to learn to do fractals on Friday night at 9 eastern starting on September 20th. Fractals are a mini dungeon style with unique mechanics and design

And with that, let's get back to Dent and find out what's going on in STO.

GAME NEWS
Star Trek Online Game News
– Story Update coming September 10th, Awakening.
– This looks to be a continuation of Age of Discovery, but more in the current timeline(2410). Anthony Rap will reprise his role of Lt. Commander Stamets for this part of the story.
– New Task Force Operation(TFO)(A type of Dungeon or Flashpoint). Mycelial Realm. It's a ground based TFO, bringing you into the Mycelial Network against a Klingon faction that is not aligned with the Empire.
– Five New Patrols(single player content)
– A New One Time Event that goes with the launch of Awakening. By running the new content daily(max 60 Progress Points a daily) you earn Progress towards getting a T6 Elachi Frigate.
– A little Quality of Life stuff. Starfleet and Klingon races that were not of Romulan origin can now captain Romulan Warbirds

Fleet projects, as normal, could use some duty officers.
MFN tonight will start after the podcast.

CLOSE
And that's our show for tonight. While the chatroom begins suggesting show titles, we want to thank Dent for joining us. And don't forget, after the show is the AIE podcast stream, this week they are doing:

If you have a question or comment about our show, you can email us at podcast@aie-guild.org. You can also follow us on Twitter. The show is at @aiepodcast. Mew is at @themewkow. Mkallah is at @cyberwaif,and Tetsemi is at @ivorytiger. We record live with video every other Sunday at 8pm Eastern/5pm Pacific. You can join the chatroom and play along with us on our website at https://aie-guild.org/podcast-live-stream/ and our Discord server for chat at https://aie-guild.info/discord . Our theme was composed by the amazing Andrew Allen, follow him at @keyswithsoul! or visit his website http://keyswithsoul.com !

And now it's time to play all of the great AIE member segment we received this week, including…

Ask Buxley – Ask Buxley

Next time, we'll be talking to a possible surprise guest about AIE in WoW Classic. So until then, AIE…

– This is Mewkow
– This is Mkallah
– This is Tetsemi

And this has been… The AIE Podcast.

]]>