<![CDATA[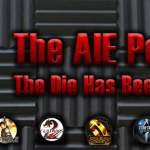 On this episode of The AIE Podcast…
Mkallah: New officers have heard the call!
Mewkow: Fallout 76 launch detected
Mkallah: The Fleet made huge strides
Mewkow: And, we have the AIE Year in review!
All that and more coming up right now…
Podcast Audio
Raw Video
Open
Welcome to episode 310 of the the podcast celebrating you, the Alea Iacta Est gaming community, the die has been podcast. This is Tetsemi: To my left is Mkallah: – (hey, guys, there are snickerdoodle cheesecake and homemade marshmallows in the guild kitchen). And to my right is Mewkow: (catch phrase here). This week we are ending the year in style and reviewing the highlights from the past year as well.
Ok, let's just jump into news and AIE in 2018!!
AIE News
Community
https://aie-guild.org/blog/2018/11/zen-and-bc-our-only-hope/
From time to time AIE evaluates the roles and jobs of the officer group that oversees all our game divisions and does the back end work. In doing that recently we identified the need for a bit more help in a couple areas. In particular, SWTOR 5.10 is going to take what we've been doing in that division with the guild "conquest" system and crank it up to 11 (and then to level 65+). Guild leveling, conquest changes and guild perks are going to require additional focus and officer roles. As a result, two new officers have been added! They will continue to be primarily SWTOR focused but we will be calling on them for help and guidance across the community as needed as well.
BCavanagh – Bcav or BC has taken on the role of Conquest strategizer for the guild for many months with his contributions in this area extending out into the greater SWTOR gaming community as well.
Zen – Zen has been with us for a few years now and true to his chosen gamer tag, he's cool and level headed without fail. He is one of the top "helpers" in the guild, always ready to assist with any ask and goes out of his way constantly to make himself available. Also in the conquest management role, Zen has become a tactical execution lead.
Mandatory Fun Nights
Where the fun is mandatory but the attendance is not.
Monday – GW2 9:30 pm Eastern
Tuesday – SWTOR 9 pm Eastern
Friday – ESO 9 pm Eastern
FFXIV 9 pm Eastern
Saturday – STO 10 pm Eastern
Noob Raid 11 pm Eastern
Just a heads up, make sure you are checking into each game to find out what games are on hold for the holidays
Streaming and guild podcast news
SWTOR Escape Pod Cast 267: Our Guild Goes To 11
http://www.newoverlords.com/swtor-escape-pod-cast-267-our-guild-goes-to-11/
This week @AIESema, @MaxTheGrey and Astromech EPC-267 are joined by two new AIE Officers, Zen and BC, to walk through the three 5.10 guild update posts and details from the recent dev live stream.
SWTOR Escape Pod Cast 268: Do You Want To Build A Saber
http://www.newoverlords.com/swtor-escape-pod-cast-268-do-you-want-to-build-a-saber/
This week @AIESema, @MaxTheGrey and Astromech EPC-268 talk through bits of 5.10 news from Eric Musco, Charles Boyd, and Jackie Cao, and we finally get to build our lightsabers on Tython
Working Class Nerds – Episode 29: Community Chat with Eric Musco
https://itunes.apple.com/us/podcast/working-class-nerds/id1330089578?mt=2#
Marcus and Nick sit down with Star Wars: The Old Republic's Senior Community Manager Eric Musco!
(As Captain America says to Ironman – "Language!") Rated explicit due to language from the hosts.
NOMADS
Fallout 76 – Launch was fairly smooth, but as this is a Bethesda game, bugs are as plentiful as attacking ghouls. Servers or 'worlds' would occasionally have issues and crash, but there was always a new one waiting to move on to. PvP is a non-issue if you wish to avoid it, almost similar to warmode in WoW where if you don't retaliate or are set in pacifist mode, it is not worth an attacker's time to try to kill you. And if they are persistent, you can easily switch worlds and never see them again. If someone manages to kill a pacifist player, they become a wanted target for the entire server/world, showing up on the map at all times, and the bounty being paid from their own caps.
We have several AIE members running amok in the game, and you can chat and find out more in the nomad channel in the AIE discord.
Destiny 2 – The free copy of Year One is no longer available, but the refer-a-friend is still ongoing. If you did pick up a free copy of Year One, and are thinking of purchasing the Year Two Forsaken expansion, see about having a guildie invite you so that you can both get some fun bonus goodies for the effort. This includes an experience bonus for both of you if you are below the level cap for Forsaken, which is level 50. It also opens open a number of exclusive quests to complete together to get an exotic sniper rifle, an exclusive ship, and a friendship emblem. Those that refer multiple friends will be able to earn an exclusive sparrow. If you recently bought Forsaken, and it was less than 7 days ago, you can still be 'referred' by another player to activate the bonuses.
WoW
Just a reminder, Noob Raid will be on holiday break beginning December 15 and resuming on January 5th.
So, AIE in WOW in Review!
1. 112 gnomes were killed during COOP this year, however we still have time to add to those numbers with our annual Winterveil COOP coming up in December.
2. 4,235 battle potions were used on heroic Argus, along with 10,678 warlock cookies. (Don't ask what's in the cookies.)
3. An average of 7.7 players ask when noob raid invites go out between 9 and 11pm every Saturday night.
4. 141 left sharks were mailed to Syreyne, bringing the current total to 426. Obviously she needs more.
5. 682 pots of coffee were brewed in the guild kitchen. The Irish cream was optional.
6. Ralff's Amazing Race was so amazing that the amazing officers want to do this amazing event every year. Isn't that amazing!?
7. Summer of Love was great! Except for the Forsaken Laser Tag. All the Forsaken competitors were disqualified, since the laser beams went right through them.
What Arrives with Patch 8.1 (starting 12/11, but susceptible to time gating)
Continuation of the War Campaign
Heritage Armor for Blood Elves and Dwarves
Paragon Reputation Rewards
Saurfang and Tyrande Questlines
New Island Expeditions and Vendor
Incursions
Account-wide Reputation Credit and Transmogs
Account-wide Flight Paths
New Darkshore Warfront and Darkshore Overworld Revamp (+ New Warfront Vendor)
Class Changes
Leveling Changes
Champions of Azeroth Reputation Changes
SWTOR
SWTOR Year End Wrap up for the AIE podcast
2018 started off with the last of 2017's Snowballs on Nar Shaddaa, followed closely by Zen reminding people that they can get mats from the Guild Cargo Hold to do their Conquest crafting.
2018 also saw 3 new operations bosses in various difficulty modes:
• Scyva, Mother of Sorrows
• Nahut, the Hated Son
• Izax, the Destoyer of pretty much everything and everyone
The Guild came together to get all the operations teams a chance to down Izax.
We got a new Flashpoint, a new pvp map, a Conquest revamp, and the Rishi Stronghold.
We got a new podcast – Working Class Nerds – hosted by Marcus and Nick.
We had a great year for guild growth and as a result we moved our MFN and Conquest schedule from 2 week Imp/1 week Pub to 1 and 1.
We got 4 new officers – Dent, Marcus, Zen and BC!
• Marcus ran his first MEGA in June and it has already become a monthly tradition. (Monthly Epic Guild Activity)
• Marcus also instigated an operations night with all the current SWTOR podcasters that was streamed by multiple content creators. It was called SWTOR Unite.
• BC created and published and maintained his Conquest Calculator which helps guildies (and the rest of the SWTOR community) plan out their Conquest activities.
• Dent started Flashpoint Fridays, which is a casual pop up event for running small group content.
• Zen continues to keep the mats the flowing and shepherd us to Conquest success week in/week out.
We had fun times on the public test servers maxing out our characters and their gear, and killing bosses.
We conquered Balmorra!
Astromech EPC-268 is floating out in space broadcasting the 268th edition of the SWTOR Escape Podcast with Max and Sema.
But 2018 is not over yet! We will finish the year with update 5.10 which will include new story, a new daily area, a new guild progression system, private PVP and GSF instances for guilds, a new armor tier, and more
STO
Big things have happened this year for the fleet. Fleet leadership switched over from Captain Hunter to Captain Grebog.
The fleet made some big strides this year on the fleet holdings. The starbase was upgraded to Tier 4 and the Starbase Military also upgraded to tier 4. This has unlocked a large number of fleet ships.
The fleet Research lab was fully completed unlocking more trait slots, an R&D project slots on top of some gear.
The fleet spire is over halfway done in upgrading fully. Which will unlock some more awesome gear for the fleet.
As for STO, we received the Victory is Life expansion. Bringing back the Dominion and allowing us to create Jem'hadar captains and of course more story.
And of course the latest story is based on the Discovery TV series in the Age of Discovery. Ships updated in Tier 6 variants from the show and some really interesting episodes were added.
Also, as Grebog's schedule has changed around again, I will be looking to find a time for people that will allow a fun night for the fleet to come together, chat, blow up some enemy ships and have some fun. So, Set Phasers to Fun, should be coming back soon.
FFXIV
Shadowbreakers has been announced as your next expansion for FFXIV!
We're likely going to the Garlean Empire (not confirmed, but looking really likely)!
Warrior of Light might be becoming the Warrior of Darkness. But isn't there already a Warrior of Darkness?
As seen in the video of the fan fest, we will have this in our hands, barring any delays, summer of 2019.
New Level Cap, of course.
Multiple new classes are likely.
Why was Thancred in the trailer sporting a gunblade? Right now, the closest class we have is a Mechanist, and they just use standard handguns, shotguns, and other ballistic weapons. Would this be a clue to one of the new classes?
New end game for crafters and gatherers! The rebuild of Ishgard has begun. Hinted at the idea of housing in Ishgard may be available. Farming may also be possible, but not as one of the new classes.
New Game+
Trusts. Similar but not a copy of the FFXI system.
Summon popular NPCs to help you in your adventuring, with their own class or role.
They do not level up on their own, they are based on your current level.
World Visiting. Visit other servers inside your datacenter.
World reshuffling. Adding more servers and regrouping of the servers.
End of 32-bit windows version of the game, 64-bit only at that point.
New race! The tease is a Bugs Bunny shirt. We are speculating that it is the Viera from FF Tactics, but will be introduced in patch 4.5)
Blue Mage, as announced by the CEO of Square Enix, Yosuke Matsuda, sporting a blue mask, a blue cape, and a staff with a blue gemstone at the top.
Learns abilities from monsters to use during combat.
How many actions? Was teased at "a lot". Will be able to equip 24 at once.
Not connected to other classes, much like machinist, red mage, DK.
Limited class, meaning not for end game. Limited to level 50 at release and will have its cap raised in patches over time.
Will be available in patch 4.5, January 2019. Part 2 of patch 4.5, wrapping up the Stormblood storyline will be in late March.
Word Visiting details:
New Data Centers being added, some servers being shuffled around.
Goblin, AIE's Home World, will be relocated to the new Crystal Data Center. Free Transfers will be available for characters affected by this move. No plans for AIE to move at this time.
Shadowbringers Trailer.
https://www.youtube.com/watch?v=WxBYy1uzSqI&t=14s
Blue Mage Reveal
https://www.youtube.com/watch?v=jMJ3oGF2SJM&t=5s
ESO
This year, we saw a resurgence of interest in the game, as the improvements both in quality of life and game content attracted players back. Kini was named director, and has been leading and encouraging a number of well attended Mandatory Fun Nights ever since.
There has been a number of DLCs launched as well, including the Summerset Isles expansion, some werewolf fun, and even well needed attention for the Argonians in Murkmire.
Upcoming events – there are two in-game events still scheduled for this year. The Undented Celebration Event (11/29 – 12/05) which will reward Event Tickets once per day when your group kills the final boss of a dungeon. The New Life Festival (12/13 – 01/02) will award one Event Ticket the first time you complete a festival quest each day. These Event Tickets are used to buy the four Indrik Feathers needed for the new Indrik mount.
EVE
What a bunch of lousy Murder Hobos

EvE is going through another donut domination phase and the crises (plural) that always follow. So prepare your buckets to harvest rivers of tears.
Good for the game, even with Pearl Abyss buying CCP and investing in other CCP games and pet projects.

Will see how EvE evolves or morphs to survive a few more years

POS(Player Owned Structures) are finally retired now, after almost 11 years.
New Cyno and JB(Jump Bridges) were deployed

GW2
It is always hard to tell because arenanet generally plays these sort of things close to their vest but it looks like Guild wars 2 had a really good year this year. The failure of Bless Online and some streamers deciding GW2 was a decent alternative really raised the profile. There are still black friday sales and giveaways in the hematite.

In game, the annual Winters Day holiday is coming up soon, in line with Arenanet new policy of not making events and achievements one-offs. If you are short on karma, the Winters Day orphans karma event should be able to help.

In the guild, we have reached level 23 and stalled out a bit. Hopefully we can regain progress in the new year and keep expanding the Guild hall. Monday Fun Nights are still generally scheduled, but we'll skip around Christmas and New Year's.

LOTRO
The Legendary Server opening is something the AIE team is jumping on. It's the WoW Classic of LotRO. We have a guild there and a handful of people kicking off new old-school characters.

The guild name is Alea Iacta Est as DM +Adahrel+ granted us a rename from A I E.

GAME NEWS
Any other wrap up, year end discussion, or personal highlights for the show or in gaming.

Mkallah- okay, you guys, since this is our last show of the year, an it is the weekend of Thanksgiving in the US- what are you guys thankful for?

Tetsemi – What was your favorite AIE moment this year and what was your favorite moment in gaming this year?

Mewkow- What are you looking forward to next year both in real life and in gaming with AIE?

CLOSE

And that's our show for tonight. While the chatroom begins suggesting show titles, we want to thank everyone for joining us each show, we really appreciate everyone that joins the chat room, listens on the feed, and responds on Twitter..

If you have a question or comment about our show, you can email us at podcast@aie-guild.org. You can also follow us on Twitter. The show is at @aiepodcast. Mew is at @themewkow. Mkallah is at @cyberwaif,and Tetsemi is at @ivorytiger. We record live with video every other Sunday at 8pm Eastern/5pm Pacific. You can join the chatroom and play along with us on our website at https://aie-guild.org/podcast-live-stream/ and our Discord server for chat at https://bit.ly/AIEPodcastDiscord . Our theme was composed by the amazing Andrew Allen, follow him at @keyswithsoul! or visit his website http://keyswithsoul.com !

And now it's time to play all of the great AIE member segment we received this week, including…

Ask Buxley – @AskBuxley

Next time, we'll be talking to you in the New Year. So until then, AIE…

– This is Tetsemi
– This is Mkallah
– This is Mewkow

And this has been… The AIE Podcast.

]]>