<![CDATA[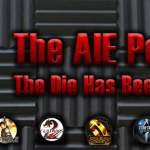 On this episode of The AIE Podcast…
Mkallah: We have our 2019 AIE year in review
Tetsemi: Lots of News as submitted by our game directors
Mewkow: It was a summer of love and a year of fun
Mkallah: And a re emergence of a Classic!
Tetsemi: We are, of course, our own guest!
All that and more coming up right now…
Podcast Audio
Raw Video
Open
Welcome to episode #334 of the podcast celebrating you, the Alea Iacta Est gaming community, the die has been podcast. This is Mewkow: To my left is Mkallah: – (Hey, guys, there are chai snickerdoodles in the guild kitchen). And to my right is Tetsemi: (catch phrase here). This week we giving the AIE year end wrap up!
Time for the AIE news and 2019 year in review
New AIE Officers
Welcome to our new officers that joined the officer corps this year.
Huck in February, Maellung in June, and Gijora in August.
Community
Mandatory Fun Nights
Where the fun is mandatory but the attendance is not.
Sunday – STO 8:30 pm Eastern
Monday – GW2 9:30 pm Eastern
Tuesday – SWTOR 9 pm Eastern
Wednesday – FFXIV 10 pm Eastern
Friday – ESO 9 pm Eastern
Friday – FFXIV(Late Night) 11 pm Eastern
Saturday – LotRO 8:30 pm Eastern
Saturday – Noob Raid (WoW) 11 pm Eastern
Guild Podcast News
SWTOR Escape Pod Cast 317: Giving Meridian Some Latitude
http://www.newoverlords.com/swtor-escape-pod-cast-317-giving-meridian-some-latitude/
Keith checks in with a producer letter, PvP Season 12 starts… on accident, the Mandalorian drops, and we dive into the Corellia Flashpoint.
SWTOR Escape Pod Cast 318: Trescientos Seis Club
http://www.newoverlords.com/swtor-escape-pod-cast-318-trescientos-seis-club/
Crafting update notes, bug fixes in progress, and Mek-Sha Heroics and Oneron Dailies.
Working Class Nerds – Episode 58: Slayer Has Spoken
https://www.buzzsprout.com/143519/2140667
Marcus and Nick are joined by Slayer this week. Nick talks about his experiences playing Star Wars: Jedi Fallen Order, and the group breaks down the first two episodes of The Mandelorian.
Highlights from WCN
2019 was a great year for Working Class Nerds.
-We had an AIE show discussing all the games that we play
– We had the Bioware team on 2 times with Musco and Matt Pucevich on. We broke the news on the first boss in the new operation.
– We had Holly Fields on the show who was Nadia Grell in game. It was so amazing to hear all about voice acting. Also we topped it off getting her to tell us "Shut up Max!"
Guild Highlights
Summer of Love 2019
In WoW we had a World Quest Party, a Kirin Tor Tavern Crawl, held our annual Remembrance day the Shrine of the Fallen Hero, COOP'ed the Alliance, and had a lot of fun at Dark Moon Faire!
In SWTOR they held a MEGA Event, a MFN event, and held their Remembrance day in Juran Mountains on Alderaan.
In FFXIV they had a special MFN and met at the Free Company house for Remembrance day.
In STO they held an event on Risa (not Rishi) and met at the Memorial at Wolf 359 for Remembrance Day.
In Eve they got together in Discord to join in Remembrance Day.
In GW2 they had a special MFN, ran dungeons with Maellung, and met at Lion's Arch on the Field of the Fallen for Remembrance Day.
In LOTRO they met on the Hill behind the Prancing Pony in Bree for Remembrance Day and held a special MFN Edition.
Nomads
Last month worth doing an old style Nomads raid in Lotro. Next stop will be GW2
WoW Classic
Nevermore has given us one heck of an update on WoW Classic!
WoW Classic launched just a few months ago on August 26th, 2019 and our Horde AIE Guild on the Pagle server has been thriving! :tada: We are constantly hovering close to the max guild limit of 1000 members. So occasionally we purge characters who have been offline the longest. If this happens to you, just jump back into AIELFO to request an invite again!
We got the guild set up – as soon as server issues allowed! – And were able to nickel and dime… Oh, we mean "silver & copper" our way to 10g to purchase our guild tabard within three days!
We waited a few weeks for guildies to have time to log in and create their characters and then all gathered together for our first huge AIE group photo! :heart:
Special shout out to our AIE Greeters in WoW Classic: Eagle, Kazrik, & Adande! Thank you for helping with invites when an Officer is unavailable. We appreciate you!
A main goal in WoW Classic was to bring back one of the guild's cherished traditions… the AIE Guild Craft Faire which was held in Undercity on November 17th, 2019!
It wasn't easy, but we did it! >.< Storage was a huge issue for us without guild banks and very limited bag space. Artisan level mats were extremely limited, mostly because our max level guildies needed them and a lot of members aren't able to help gather them yet. But overall we had the majority of mats needed for a bunch of guildies to make progress with their professions.
Thank you to everyone that donated gold and mats especially when we only had about a month of prep time before the event!
Huge THANK YOU to the volunteers on the AIE Guild Craft Faire Professions Teams. This event would never have been able to happen again without all of you crazy, dedicated, and wonderful guildies! The amount of time and effort you put into planning and organizing behind the scenes is greatly appreciated. And it means a lot that you offered to help out! :heart:
Since our Craft Faire "test" was successful, we are already planning to host another one sometime in the spring of 2020! We could always use more volunteers… wink wink
Raid planning is happening and we are coordinating with United Orgrimmar and other guilds within the "United Federation of Guilds". So keep an eye on the WoW Classic Discord channel for more info. And to find out more about a fun unannounced event happening sometime in December!
There's a lot going on so if you're interested in playing with us log into WoW Classic and create a Horde character on the Pagle realm! To request an invite in game /join aielfo or ask in the Discord LFO channel because would love to have you with us in WoW Classic!
I hope you have a Merry Christmas & Happy Holidays! And I look forward to all of our adventures in 2020!
FOR THE HORDE!
Love,
Nevermore
AIE Guild Master in WoW Classic
WoW
We started an Alliance branch of AIE on Earthen Ring-US and are gathering folks to raid one night a week on it. If you're interested, message Syreyne in game or AIE Discord.
We've had an influx of new and returning guildies to retail WoW since BlizzCon and a BIG WELCOME to them! Gustytail also really enjoyed the Search for Uuna pet event and intends to do more of these. We will be seeing more of Uuna in Shadowlands, which makes sense because she's a ghost. Guild events are a lot of fun and we all hope more people take part in 2020.
We had a really great time remembering Ralff with Ralff's amazing race in February of this year. And it's an annual event, so look for detail upcoming in January for 2020's Ralff's Amazing Race!
Just a note from Kini- NoobRaid will be on holiday break for December 21, 28, and January 4th. Our adventures will resume on January 11th where bosses will die, loot will drop, and Kini will demonstrate how great she is a floor tanking.

SWTOR
And, from Max we have all the SWTOR News that's fit to print! Um, Podcast.
We have hosted a bunch of nice events this year with MEGA hitting its one year mark in july. The best part it still happens every month.

Dec 10th it will be a special holiday edition of MEGA/MFN. 9pm for some fun and even a pod race around the fleet!

So far in 2019, the SWTOR division has had:
300 Command Ranks achieved by countless characters in our guild "Summer of 300"
253 characters at the new expansion level cap of 75
90 guild Conquest weekly objectives completed
47 Mandatory Fun Nights
47 SWTOR Escape Pod Cast episodes
26 Working Class Nerds podcast episodes
11 Monthly Epic Guild Activities
5 Operations Teams including a new one added this fall
4 guild ship rooms unlocked through guild group efforts
2 IRL meetups (at Star Wars Celebration in Chicago and the NYC Cantina)
1 expansion with tons of guild events around "6.0 – Onslaught"

Welcome to all the new guild members, especially in the last month, and a huge thank you to the entire AIE SWTOR crew for continuing to come together to keep the fun going in 2019.

FFXIV
From Durus and the Final Fantasy crew- FFXIV AIE raiders, Noobs on Demand (NoD) have been successful in the new 24 man Copied Factory Alliance raid based on the Neir Automata theme. Most have their special 2B Glamour by now.

The Ishgard Restoration is live and phase one has been completed by our world server: Goblin. The next phase will begin "soon." There has never been a better time to level your crafters than using this event.

Letter from the Producer Live 56 will be broadcasted on Friday, December 13, 2019 at 8:30 p.m. (PST) and will have a preview of Patch 5.2, and Special Guest: Masayoshi Soken – Sound Director

The annual 14 hour marathon will be live at From Friday, December 13 at 7:00 p.m. (PST), just prior to the Letter from the Producer Live. https://na.finalfantasyxiv.com/lodestone/topics/detail/fc09d40cd9169fe3be37527aa47106d6b5f1b8e4

Break out your Holiday glamours; the start of the Christmas season, expect the Starlight Festival to start in FFXIV soon.

If you'd like to join the AIE crew in FFXIV, look us up in Discord and in-game!

And just to be "Extra" … Stay tuned for the AIE special holiday season event. More information soon!

ESO
From Kini, we have our ESO news- Dawn of the Dragonguard event started on November 26th and runs until Monday December 9th. There will be bonus rewards received from Dragon kills and by defeating the final boss in the the Wrathstone Dungeon, Scalebreak Dungeon, and any boss in the Sunspire Trial. Also resource nodes will drop double crafting mats. This event also allow players to earn 2 event tickets daily to spend at the Impresario on Indrik berries, outfit styles, and Indrik feathers.

While it hasn't been announced yet, there is usually a holiday event called the New Life festival in late December as well.

MFN is on Friday nights at 9pm EST and we take part in activities related to the scheduled events, clearing zones, and enjoying the Mandatory Fun. Throughout 2019 we've had dragon hunting parties, helped people obtain pets from public dungeons, done a tour of guild members homes, and of course jumped off a few cliffs.

STO
From Grebog- The fleet in STO has done a lot in the past year.

The fleet holdings have made some major progress over the year unlocking some of the best in game consoles for everyone

The game added lots of new content and more ways of making it even easier to come and play.

EVE
From Crazy Uncle Lanc- The folks in Eve spent the year planting their flag and then moving ad infinitum.But seriously, the moved at least 3-4 times, if not more, and are living up to the name Space Murder Hobos.

GW2
From Maellung, This year in Guild Wars we got a new "Living World" called the Icebrood saga. MFN is still running on Monday night, ts and there are things in the planning stages so please stay tooned

LOTRO
And, from Maellung, Lotro received changes to the virtue system as well as a new expansion pack, Minas Morgul. As a guild we hosted AIE's nomad raid. In the raid and in the weeks following we walked guildmates through the starting area. We had our mandatory fun on Sat. nights with SNL. We are currently looking forward to the Yuletide Festival from 12/12- 1/7. We also look forward to many more fun Sat. nights with SNL.

GAME NEWS

CLOSE
And that's our show for tonight. While the chatroom begins suggesting show titles, we want to thank AIE for a great year and the game directors for all of the great updates!

If you have a question or comment about our show, you can email us at podcast@aie-guild.org. You can also follow us on Twitter. The show is at @aiepodcast. Mew is at @themewkow. Mkallah is at @cyberwaif,and Tetsemi is at @ivorytiger. We record live with video every other Sunday at 8pm Eastern/5pm Pacific. You can join the chatroom and play along with us on our website at https://aie-guild.org/podcast-live-stream/ and our Discord server for chat at https://aie-guild.info/discord . Our theme was composed by the amazing Andrew Allen, follow him at @keyswithsoul! or visit his website http://keyswithsoul.com !

And now it's time to play all of the great AIE member segment we received this week, including…

Well, we don't have any due to the holiday weekend, however we do want to thank all our contributors over the year who have given us their awesome segments.

We will see you in the New Year! So until then, AIE…

– This is Mewkow
– This is Mkallah
– This is Tetsemi

And this has been… The AIE Podcast.

]]>