<![CDATA[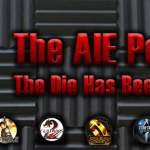 On this episode of The AIE Podcast…
Mkallah: We have your Summer of Love 2019 schedule
Tetsemi: We love the Night Life and want to boogie on Nar Shaddaa
Mewkow: and when you are done, head on down to Risa
Mkallah: Paranoia and space blackouts in EVE
Tetsemi: And we have Abovan (and possibly Durus) here to talk about AIE in FFXIV
All that and more coming up right now…
Podcast Audio
Raw Video
Open
Welcome to episode #324 of the podcast celebrating you, the Alea Iacta Est gaming community, the die has been podcast. This is Mewkow: To my left is Mkallah: – (Hey, guys, there is a blueberry lemon almond cake in the guild kitchen). And to my right is Tetsemi: (catch phrase here). This week we are joined by special guests Abovan and (possibly) Durus who is here to talk to us about AIE in FFXIV Welcome!
Ok, we'll be digging into FFXIV shortly, but first, let's cover this week's news…
AIE News
Community
Mandatory Fun Nights (included for notes, don't need to read today)
Where the fun is mandatory but the attendance is not.
A couple of games have moved days so make sure you double check when each game is running MFN.
Sunday – STO 8:30 pm Eastern
Monday – GW2 9:30 pm Eastern
Tuesday – SWTOR 9 pm Eastern
Wednesday – FFXIV 10 pm Eastern
Friday – ESO 9 pm Eastern
Friday – FFXIV(Late Night) 11 pm Eastern
Saturday – LotRO 8:30 pm Eastern
Saturday – Noob Raid (WoW) 11 pm Eastern
Summer of Love Events
Saturday July 27th
(time) SWTOR MEGA?
Sunday July 28th
9:30 EST STO MFN – Special Edition
Monday July 29th
Tuesday July 30th
7pm EST WoW – Alliance World Quest Party
Wednesday July 31st
8pm EST WoW – Horde Kirin Tor Tavern Crawl
Thursday August 1st
Friday August 2nd
(time) All AIE Remembrance Day
EVE
GW2
SWTOR
WoW – Horde Shrine of the Fallen Hero
Wow – Alliance
ESO
FFXIV
STO Memorial at Wolf 359
LOTRO
9:00pm EST ESO MFN – Special Edition
Saturday August 3rd
8pm EST WoW – Both COOP
9:30 EST LOTRO MFN – Special Edition
Sunday August 4th
(time) WoW – Both Darkmoon Faire Fun
Streaming and guild podcast news
SWTOR Escape Pod Cast 299: Tactical Insertion
http://www.newoverlords.com/swtor-escape-pod-cast-299-tactical-insertion/
This week @AIESema, @MaxTheGrey and Astromech EPC-299 talk through the first couple 6.0 class updates and the ability, set bonuses and tactical items that have been described in the forums. We also talked about our plans for Episode 300 which will be next week on 7/9, Star Forge, Guild Discord, 8pm central pre-show party and discussion, 9pm live recording session.
SWTOR Escape Pod Cast 300: Long Strange Trip
http://www.newoverlords.com/swtor-escape-pod-cast-300-long-strange-trip/
Friends of the show wouldn't let us have episode 300 go by without some kind of acknowledgement, so we spend this show looking back at the last 5+ years of SWTOR, the podcast and our guild and then bring on the instigators of this party for mini-interviews. Thank you to Marcus, Intisar, Sten, Corley, Dent, Maellung, Bcavanagh!
Working Class Nerds 48
https://www.buzzsprout.com/143519/1361902
Marcus and Nick begin the first of several episodes highlighting their favorite Game Development Studios! This episode they talk about their the good, the bad, and the ugly from Bethesda.
WoW
First week of raiding in Nazjatar Palace, and a lot of bosses down. The new Mechagon Mythic dungeon is really hard but has been cleared by several teams. Still most are grinding reputation and the new tiers of gear, to be fully equipped for the new Palace Raid
We are doing COOP for Summer of Love and for the first time ever AIE will officially be on both sides, attackers and defenders!!!!
SWTOR
In SWTOR, the Nar Shaddaa Night Life event continues. If you like gambling with almost no chance of getting what you are after, this event is for you! It's an RNG-palooza that goes well with Netflix. Have you seen Stranger Things Season 3 yet?
The Bounty Contract and Pirate Incursion events will be coming this summer as well. The Pirate Incursion, in particular, is very good for command experience.
In SWTOR guild news, we are in the middle of our Summer of 300. Several guildies are working on getting to command level 300 on all 8 classes, because that achievement is being moved to a Feat of Strength in October. Come and report your progress as we run around the Galaxy doing important stuff during MFN on Tuesdays nights. Or just drop a note in discord to let everyone know how it's going.
July MEGA is going to be on July 27th and will kick off AIE's Summer of Love for 2019. We are going to Yavin IV to kill the Ancient Threat. This is a summonable boss that many people have never seen, so be sure to attend!
STO
The 2019 Risian Lohlunat Festival!
It's time for Captains on all three platforms to take a relaxing break on Risa, and get their hands on the T6 Risian corvette, new costumes, emotes, and more!
Ythe guild fun nights on Sunday nights have focused on getting some of the currency for the updated cosmetic rewards.
The T6 Risian Corvette is the ship available this year, which is pretty cool: https://pwimages-a.akamaihd.net/arc/7a/96/7a96af30b96451d6cebd5df9bcac2cc91561079244.png
ESO
Danikina is out having fun for a bit so ESO MFN was guest hosted by Sparrow this week. Big thanks to Sparrow for stepping up and keeping the regular Friday night ESO fun going.
EVE
Nullsec local chat blackout is in full effect making for a lot of sneaky roams, black ops hunting and all pve activities are either on hold or only committed to while a high alert Home Defence fleet is up and active. Sovereignty attacks are still full force but drifter attacks seem to have ebbed off. Alot of paranoia and turtling atm mixed with sneaky attacks and lipsmacking for blingy kills

LOTRO
Right now just MFN. On the 20th we will be trying for a chance to get drops such as cosmetics outfit pieces, cosmetic pets, mounts etc.
During SNL (MFN) we took down 2 of the 3 wings of the Great Barrows.
GW2
GW2 Monday night MFNs are still rolling and open to anyone in the guild. All levels are welcome and the activities vary depending on the group that comes together.
Starting Tuesday, "Special Event: World Boss Rush" is returning for a week.
I bet that will be something the guild can get involved in! :smiley:
Balance patch out soon. Much weeping and wailing, judging by the early release notes.
And with that, let's get back to Abovan (and Durus) and find out what's going on in FFXIV.
GAME NEWS
ABOVAN Intro
Shadowbringers! Yea! It is a masterclass on how a MMO expansion should be designed. Taking what works and expand on that, removing things that don't work, and finding what the players like the most in your game, and making that the best content that they have ever experienced. The login queues are short, very few bugs or problems, and overall a great MMO experience.
ABOVAN Activity
AIE has been super active in FFXIV lately.
Some metrics for activity taken on 7/11
Last 30 days 81 Unique characters logged in.
Last 7 days 64 Unique characters logged in.
Current membership sits at 114 characters.
Many of the current players of the game have or are wrapping up the MSQ for Shadowbringers. For those that have, they are all saying that it is such a wonderful and emotional experience, and with it being one of the best Final Fantasy stories told.
Durus – I'M HERE!

DURUS Plot Overview
In Shadowbringers, the game follows the player as they journey to Norvrandt, a copy of Eorzea which where the light is flooding the world, and we take up the mantle of the "Warrior of Darkness" to bring balance back to the world, saving Norvrandt and in extension, saving Eorzea. The journey to do so, is an emotional one, as the story and characters are well thought out, superbly voice-acted, and show character growth, as any good story should do.

DURUS Gameplay
There's plenty to do in the new expansion, besides just watching a great story unfold. All jobs were reworked for the new expansion, some more than others. 2 new jobs, the Dancer and Gunbreaker. Trusts, which are NPCs that will help you through the MSQ dungeons to help you learn the new ones. They are slower than actual players at clearing the dungeon, but good for those that want a stress-free experience on their initial clears. 8-player content still require 8 actual players, so there are times that grouping will be needed.

At the time of this recording, Sunday, 7/14, we have the following instanced content.

8 Four player dungeons
3 Normal 8 player trials
2 Extreme 8 player trials

We will be getting new content soon. The dates are approximate and subject to change, but this is what we have to work with right now.

ABOVAN Tue Maintenance / Content Update
On July 16th, which is this week, we are expecting to have the release of Eden normal mode, the 8-player raid. Normal is commonly known as story mode.

On July 30th we are expecting to get Eden Savage, which is the harder mode for raiders. Also, this is when we will be getting Tomestones of Phantasmagoria, which will be the high end game currency for the time being. Finally, we will also be getting a new dungeon, Lyhe Ghiah, which will be our 9th 4 player dungeon.

So, these are being added to the already impressive 126 already existing dungeons, trials and raids in the game.

DURUS AIE Schedule
To accommodate this, AIE in FFXIV will be working off of the following schedule for events for us to do group content with. These are just times that we are shooting for, and may be subject to change in the future, but we wanted to have something up on the wall now, to see if it sticks.

Tuesday/Thursday (11:30 – 2:30am EST) – XFN – X-treme Nights!
More traditional AIE Raid team.
Higher level content, cutting edge, expect death, and probably pugs to start
Discord voice, MANDATORY!!! (mic not required, but preferred)
Pre-defined roster will take precedence.

Wednesday – 9:00pm EST – Mandatory Fun Night
Leveling and more accessible content. I.E. Leveling roulettes, new player help, MSQ and other dungeon unlocks, Maps, and other non-cutting edge content.

Friday – 11:00pm EST – Mandatory Fun Night
Leveling and more accessible content. I.E. Leveling roulettes, new player help, MSQ and other dungeon unlocks, Maps, and other non-cutting edge content.

These are the events that AIE will be doing each week. This does not mean that members can't create their own groups, staics, or raid teams.

It's acceptable for any AIE member to create their own group, with their own schedules, culture, loot, rules, etc.

One more time for the people listening in the back!

ABOVAN ANY AIE member can create their own group, with their own schedules, culture, loot, rules, etc,

These events, and any other player events can be added the AIE calendar, which is found at https://wiki.aie-guild.org/index.php?title=Guild_Calendar. Contact an FFXIV game officer with the details.

CLOSE
nd that's our show for tonight. While the chatroom begins suggesting show titles, we want to thank Durus and Abovan for joining us. And don't forget, after the show is the AIE podcast stream, this week they are doing:

@abovan
@thedurus
https://mixer.com/abovan

If you have a question or comment about our show, you can email us at podcast@aie-guild.org. You can also follow us on Twitter. The show is at @aiepodcast. Mew is at @themewkow. Mkallah is at @cyberwaif,and Tetsemi is at @ivorytiger. We record live with video every other Sunday at 8pm Eastern/5pm Pacific. You can join the chatroom and play along with us on our website at https://aie-guild.org/podcast-live-stream/ and our Discord server for chat at https://aie-guild.info/discord . Our theme was composed by the amazing Andrew Allen, follow him at @keyswithsoul! or visit his website http://keyswithsoul.com !

And now it's time to play all of the great AIE member segment we received this week, including…

Well, nothing this week, but we are always looking for member segments.

Next time, we'll be talking to Dankinia in ESO. So until then, AIE…

– This is Mewkow
– This is Mkallah
– This is Tetsemi

And this has been… The AIE Podcast.

]]>